Gameday Poster Series | Chicago Bears Official Website
The Chicago Bears are again collaborating with All Star Press to unveil 17 unique gameday posters for the 2021 season. Four local artists will each design a series of four posters this season. The artists were selected by the Bears and All Star Press, which is an all-in-one Chicago art gallery, retail space and print studio based out of the Logan Square neighborhood. The final poster will be designed by All Star Press.
This year's artists include Ariel Sinha, Oscar Joyo, Delisha, and Fedz . Check back for more information about each artist as their posters are released this season.
For the first time this season, a limited run of each poster will be available for purchase via All Star Press. Posters will be available beginning on Friday morning before each game until they are sold out. All the Bears proceeds from the sales will be donated to Bears Care, the team's charitable arm.
To purchase 2021 Bears Gameday Posters, visit All Star Press Chicago.
Week 18: Zissou Tasseff-Elenkoff
Artist: Zissou Tasseff-Elenkoff
Bio: Zissou Tasseff-Elenkoff is the owner of All Star Press, a creative agency and gallery in the heart of Logan Square that specializes in screen printing. Over the past 2 decades Zissou has worn a lot of hats in the Chicago art scene. From founding Fugscreens Studios in 2006 with an emphasis on gig posters and illustration, to opening his first gallery space, Galerie F in 2011. After 5 years of running Galerie F, he started his new venture expanding his cultural reach with a new retail & gallery space when opening All Star Press. All Star Press services a range of artists and brands offering everything from screen printing to illustration, design, curatorship, murals and gallery shows.
Over the years Zissou has put on over 200 gallery shows in Chicago and helped spur many upcoming artists' careers with a strong emphasis on growing a cultural hub in Chicago. Zissou has a passion for all things sports and has positioned All Star Press to highlight the world of sports and strengthen the connection between sport and art by teaming up with the Bulls, Whitesox, Cubs, Blackhawks and the Bears to create some amazing art programs. Mixing contemporary design with street art and sports culture, All Star Press is an ever expanding inspiration for new intersections to see and think about art.
Artist: Fedz
Bio: Fernando Caldera is a self-taught Chicago based mixed-media artist. Born in Los Angeles, California he moved here at age 6. Other known as FEDZ he creates images of animal in nature with a distinct turquoise, red and white color palette. Detailed animal portraits with organic plant silhouette backgrounds giving a sense of alertness. His sculptural work is based off the human condition. Creating weird creatures with a playful friendly feeling with the use of bright colors. You can find his work on Instagram under the handle @FEDZART.
Artist: Delisha
Bio: Delisha McKinney creates whimsical illustrations that are larger than life, full of vibrant colors, textures and hidden meanings. Each piece represents another page in the story shes been working on her whole life. Her otherworldly characters represent the thin line between fantasy and reality, a whole new world sketched by McKinney, who is a self taught painter and self proclaimed nomad of the south, now practicing in Chicago. McKinney's art isnt just something you stand in front of and gaze at, you step into it and experience it.
Her art pulls you in with it's playful approach to the canvas; the soft lines, the shapes and her "Alice in Wonderland" vibe. If adults still believe in fairytales, hers would be it.
A place where art can pull you up from the streets, hero means love, and dreams come true.
co-written by @femaleartistschicago
Photos by: Devyn Wesley
Artist: Oscar Joyo
Bio: Oscar Joyo is a Malawian born, Chicago based artist known for expressive portraiture that features his unique combination of photo realism and tribal patterning. His practice fuses both traditional and digital mediums to explore imagery and themes connected to afrofuturism and afrosurrealism.
Joyo's process begins with a photorealistic portrait painted in acrylic. Joyo then coats each of the panels with a thick, clear resin. On top of this shiny surface he paints a layer of patterning and symbols that both embellish and obscure the subject of the portrait. The work is raw at the edges and is imbued with a spiritual psychedelia.
For Joyo, the creative process is profoundly influenced by music, and his interest in visually representing the sounds he perceives. As Joyo overlays his portraiture with vibrant, dynamic lines, shapes and patterns, they are in response to musical tempo, timbre and mood. As he further explores and understands his personal relationship with sound and it's conversion into visual imagery, Joyo hopes that this synesthesia will be a point of connectivity for the viewer.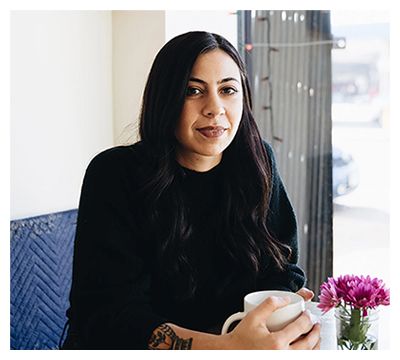 Artist: Ariel Sinha
Bio: Ariel Sinha is a designer and illustrator based in Chicago. She specializes in illustrations featuring bold portraits, organic shapes, vibrant colors and a touch of humor to create pieces that are representative of people from all walks of life.