He has to learn a new offense and get to know new coaches, but receiver Devin Aromashodu felt right at home Tuesday when he began his second stint with the Bears.
Aromashodu practiced with his new/old teammates on the first day of minicamp less than 24 hours after signing with the team he played with in 2009-10.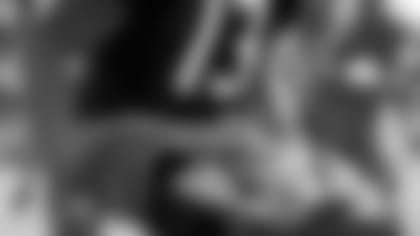 Receiver Devin Aromashodu returns to Chicago after spending the past two seasons with the Minnesota Vikings.
"It's good to be back and I'm happy to be back, having another opportunity to play again," Aromashodu said. "It's just fun being back on the field most of all."
Aromashodu appeared in 24 games with four starts over two seasons with the Bears. In 2009, he developed a rapport in offseason workouts and training camp with Jay Cutler and then caught 24 passes for 298 yards and a career-high four touchdowns.
Aromashodu returns to Chicago after spending the past two seasons with the Vikings, catching 37 passes for 650 yards and one touchdown while appearing in 31 games with six starts.
During his first stint with the Bears, the 6-2, 201-pounder was the tallest receiver among a group that also included Earl Bennett (6-0), Johnny Knox (6-0), Devin Hester (5-11) and Rashied Davis (5-9). Aromashodu is now the team's fourth tallest receiver behind Terrence Toliver (6-5), Brandon Marshall (6-4) and Alshon Jeffery (6-3).
"It's a good thing, having big receivers," Aromashodu said. "I know the fans here have always been wanting that, so they have something like that now. You need big receivers, you need small receivers; you need it all."
Cutler is pleased that Aromashodu is his teammate again, but understands he'll face an uphill battle to earn a roster spot.
"Tall, athletic, good hands, a lot of speed," Cutler said. "But there's a lot of competition in there. He's kind of behind the eight-ball. He's behind the other guys. He's got some catching up to do. Receiver-wise I think we've got some really good guys. We've got some really good skill guys on the offensive side, so he's going to have to catch up to us."
Aromashodu was selected by the Dolphins in the seventh round of the 2006 draft with a pick Miami had obtained from the Bears in exchange for special teams ace Brendon Ayanbadejo.
After failing to make the Dolphins' 53-man roster, Aromashodu made his NFL debut with the Colts in 2007, catching seven passes for 96 yards while appearing in six games with one start.