The Bears announced Tuesday that head coach Bob Moynihan of Harlem High School in Machesney Park has been named the Chicago Bears High School Coach of the Year brought to you by Athletico Physical Therapy and is the Bears' nominee for the Don Shula NFL High School Coach of the Year Award. The Bears will make a $2,000 donation to the Harlem football program.
"It's very special," said Moynihan. "It shows what these kids have done and how hard they've worked and it's a testament to them. They did all the right things in a very difficult situation. I think, as coaches, we more guide our students and athletes to do what they're supposed to do. It's not about us, it's about them."
Moynihan, who joined Harlem in 2019 after serving as Zion-Benton High School's head coach, led the team to a 6-0 record and won the NIC-10 Conference Championship for the first time since 1997. He was also named the "Coach of the Week" in Week 5; Harlem's quarterback, James Cooper Jr., was named the "High School All-Star" for Week 2 as well. Like all coaches, Moynihan had to face the many challenges that COVID-19 protocols presented, including rescheduling opponents on short notice. Harlem finished the season at No. 3 in the AP Class 7A poll. Previously, Moynihan was on the coaching staff at St. Viator, North Chicago and Proviso East; he is a St. Viator graduate and played football at Southeast Missouri State.
"Coach Mo means everything to me," said Cooper Jr. "He came in here and helped change the culture of our program to what I always thought it could be. He always believed me and us, and when the game was on the line, he always put the ball in my hands and thought we could win. Great coach, and even better person."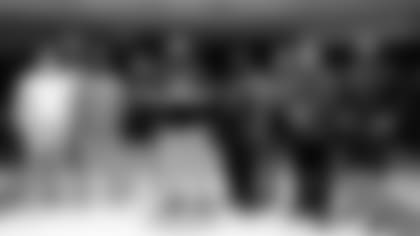 The Bears recognized a "Coach of the Week" and "High School All-Star" each week during the spring IHSA football season and provided $12,000 in grants to the winning high school football teams and $3,000 to local youth football programs. The "Coach of the Week" and "High School All-Stars" programs are brought to you by Athletico Physical Therapy.
Week 1 | Matt Purdy (Glenbrook North) & Jimmy Zydlo (Glenbard West)
Week 2 | John Rone (Alan B. Shepard ) & James Cooper Jr. (Harlem)
Week 3 | Jon McLaughlin (Crystal Lake Central) & Alex "Gary" Moeller (Prospect)
Week 4 | Byron Gettis (O'Fallon Township) & Isaiah Thompson (Sacred Heart-Griffin)
Week 5 | Bob Moynihan (Harlem) & Kyle Athmer (Breese Central Community)
Week 6 | Jose Medina (LaSalle-Peru) & Maurice Edwards (Warren Township)