The Bears defense performed well last season, ranking ninth in the NFL in points allowed and 10th in total yards. But the unit is playing at an even higher level this year.
Through three games, the Bears lead the NFL with 14 sacks and seven forced fumbles. The defense fueled a 16-14 comeback win Sunday in Arizona by generating takeaways on four straight possessions to open the second half.
"Man, it's crazy," said running back Jordan Howard. "I've never seen anything like it. They were good last year, but they're getting turnovers this year, so that makes them better."
The defense has been led by All-Pro outside linebacker Khalil Mack, who is tied for the NFL lead with four sacks and tops the league with three forced fumbles. That's a successful season for a lot of NFL players, but Mack still has 13 games to go in his first year with the Bears.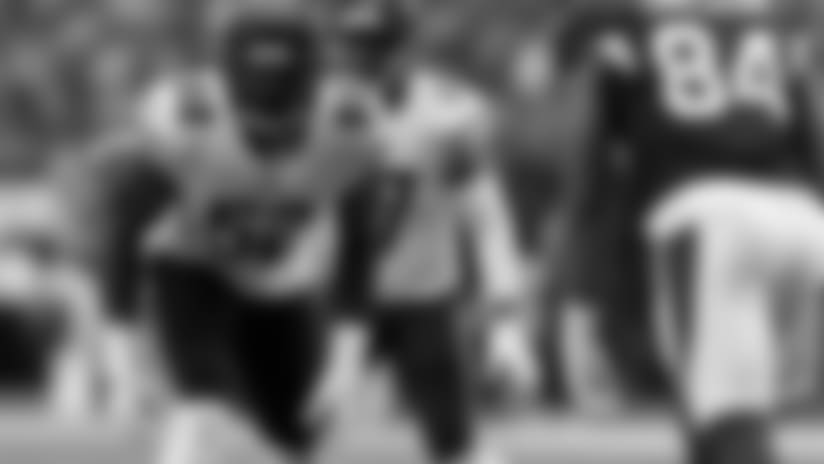 Coach Matt Nagy knew all about Mack, having faced the talented outside linebacker twice a year when Nagy was an offensive assistant with the Chiefs and Mack played for the Raiders. But that doesn't mean that Nagy anticipated Mack performing like he's from another planet.
"I don't know if I would have expected him to put together a string of three games like this, but it doesn't shock me," Nagy said. "I also want to say, too, that what he's done is completely elevated everybody else on that defense. Across the board, you can see these guys and how all their games have elevated. That's rare to have one guy affect a team like that."
Ball hawk: Another top playmaker on defense has been safety Eddie Jackson, who registered his first interception of the season Sunday and his third in two years with the Bears.
Jackson has started all 19 games since arriving in 2017 as a fourth-round pick from Alabama. Nagy believes that the 25-year-old is respected by teammates primarily because he makes plays.
"He's a leader back there in the defensive backfield and he has a lot of confidence in himself," Nagy said. "That kind of just resides with all the players. They feel that, and anytime you make plays out there, you get ultimate respect from your peers."
Jackson's interception in Arizona came early in the second half when he drifted over toward the sideline to pick off Sam Bradford's long pass intended for receiver J.J. Nelson.
"He was athletic enough to get over there and then track the ball and make a good catch," Nagy said. "He has that in him. You can see him in practice when balls are thrown his way. He can catch the ball. He can play a little wideout."
Long season: At 2-1, the Bears are in sole possession of first place in the NFC North for the first time since Week 16 of the 2013 season. But Nagy isn't about to throw a party.
"What we're doing is taking it week-by-week," Nagy said. "Who cares about first place, second place, third place? It's a long season. We're going week-by-week, and our guys are understanding that part. They're focusing on that part and only control what we can control."
It's clear that Bears players have received that message.
"To be honest, we're not really paying attention to us being in first place," Jackson said. "We're just paying attention to coming out here every day and getting ready for the next opponent. Right now, we just want to keep stacking wins, keep coming out in practice correcting these little mental errors that we had in this game and keep coming out and just winning games."
Health update: Nagy said Monday that cornerback Prince Amukamara (hamstring) and rookie receiver Anthony Miller (shoulder) are both day-to-day after exiting Sunday's game with injuries.
"We'll kind of get some feedback here as we go and see where they're at and see what their status is for this week," Nagy said.