Upgrading the Bears roster hasn't been general manager Ryan Pace's only priority this offseason. He's also in the process of implementing changes designed to reduce the rash of injuries that plagued the team last season.
"We've met multiple times with a lot of people," Pace said recently. "Those are good discussions when everybody kind of lets down their guard and we just kind of put everything on the table. I value when people do that."
The Bears placed 19 players on injured reserve last year, tied with the 49ers for the second most in the NFL behind the Chargers (20). Not surprisingly, those three teams combined to finish with a 10-38 record. The Super Bowl champion Patriots had the fewest with four.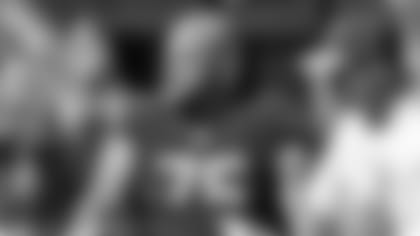 Bears guard Kyle Long suffered a season-ending injury against Tampa Bay in Week 10.


"We have made some tweaks and some adjustments," Pace said. "Without going into specifics, but it could be some scheduling things, some training camp things, things we're doing in the weight room, things we're doing in the training room, just dialing things in to adapt and not just put our heads in the sand and say, 'oh that's bad luck.'
"We've made some adjustments and tweaks that we're all supportive of and we all had input on. We're excited about the outcome of that."
Last year the Bears' top three quarterbacks all landed on injured reserve. Jay Cutler missed 11 games with thumb and shoulder injuries, Brian Hoyer broke his arm in a Week 7 loss to the Packers and Connor Shaw fractured his leg in the third preseason game.
Others who suffered season-ending injuries included receivers Kevin White, Eddie Royal and Marquess Wilson; guard Kyle Long; tight end Zach Miller; center Hroniss Grasu; nose tackle Eddie Goldman; outside linebacker Lamarr Houston; inside linebacker Danny Trevathan and cornerback Kyle Fuller.
Bears players have already been wearing catapult tracking devices during physical activities to help the team determine each individual's optimal training capacity.
"Some guys are different," Pace said. "Some guys can go all day. Some guys we've got to be more mindful of. Even in training camp it's understanding when we have a high-intensity day, we're going to back off this day. And that's a long-term plan because the goal is to peak Week 1, not peak in the middle of training camp.
"You're building the team to be at their absolute highest state Week 1, and that's our goal. I feel good about where we're at with that right now. We've got a lot of good people between Nate [Breske], Jason George, Jenn Gibson and then coaches, starting with coach [John] Fox, that are willing to listen to input and adapt and be flexible on things, and I appreciate that because that can be difficult for some guys."
The Bears actually cut down on their soft-tissue injuries from 2015 to 2016 but suffered more broken bones last season.
"The injuries are something that we've looked very hard at," Fox said. "We had some injury issues even in the first year (2015). They were a little bit more soft tissue, a little bit more practice-oriented. We did a lot to improve the fields. We did a lot to improve how we practice. We actually did a lot more adjustments and then [last]year it actually got worse, so we kind of go back to the drawing board.
"Our league does the research, we do it. We've done quite a few things that we've looked at; it's been a collaboration, whether it's strength coaches, assistant coaches, practice techniques. We actually dropped our injuries in practice [last] year, but we got more catastrophic injuries in games [last] year — broke leg, broke arm, broken bones. But you still evaluate it and do everything in your power to try to correct it."