When Bears veterans reported to Halas Hall last week for the start of training camp, they were given a unique opportunity to have their voices heard.
For the first time, all players were able to register to vote as part of the arrival process, with assistance from the Lake County Clerk's office.
The idea was hatched in June when Bears players discussed how they could make a difference and effect change in the wake of the death of George Floyd, a Black man who was killed by a Minneapolis police officer May 25.
"This was something the guys were really passionate about, to make change and try to use their voice and their right to be able to vote," said LaMar "Soup" Campbell, the Bears' director of player engagement.
"One of the biggest things we wanted to ask, in the midst of COVID, was, 'What can we do to be safe but also to impact not only our building but also the communities that we live in as well?' It was just something that the players wanted and, as a building, we worked together to make sure that it happened."
Campbell and player engagement coordinator Erika Marmolejo were instrumental in setting up the voting registration process at Halas Hall.
The Bears are urging not only their players but their fans to vote as well—and not just once every four years in the Presidential election.
"It's important to have your voice heard, not only nationally but in your local community as well and understand what's going on in your community and how those votes can help impact your community," Campbell said. "It's not just about being a voter; it's being an educated voter, and this opened the door to that world for [Bears players]."
Veteran linebacker Danny Trevathan understands the importance of voting, but as a teenager he wasn't sure what steps he had to take to do so.
"We're trying to help people get out there and vote," Trevathan said. "A lot of people don't use their right. I know for me when I turned 18, I knew I had the right to vote, but I didn't know how to do it. Education was a part of it.
"It's important because that's who makes the laws. They control the police. They control the judges, the schools, who's getting this, who's getting that, little things that are really big things. So I would encourage everybody who has the voting right to go out there and use that and don't take it for granted."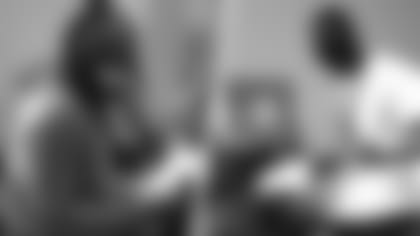 The Bears are believed to be the first NFL team to include voter registration in their training camp arrival process.
"I'm extremely proud of what we were able to do," Campbell said. "With us being the first franchise in the NFL, I like to be first doing a lot of things. That's a tradition that the Bears have. We have a lot of firsts in our history as an organization and this is another one that a lot of us are proud about. The entire building played a part to add to our legacy that we were the first for this as well too."
In addition to the actions the Bears are taking, the NFL launched a voting initiative Aug. 6 on the 55th anniversary of the Voting Rights Act of 1965, which was meant to ensure the right to vote for all Americans regardless of race.
NFL Votes is a non-partisan initiative created to support and encourage the civic engagement and voting of NFL players, legends, club and league personnel, and fans through Election Day. NFL Votes will focus on three key components of the electoral process: voter education, voter registration, and voter activation. The league has partnered with three non-profit, non-partisan organizations as part of its initiative: I am a Voter, RISE to Vote and Rock the Vote.