Bears draft picks and undrafted free agents who left Halas Hall Sunday after rookie minicamp returned to the facility Monday, joining their veteran teammates for the first of 10 OTA workouts.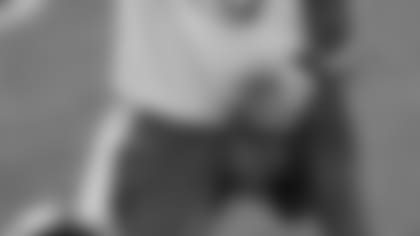 Fourth-round pick Khaseem Greene stretches before practice.
"We're excited about what we saw out here on a number of levels and as I told them when I finished with them they're very lucky," coach Marc Trestman said Sunday as rookie minicamp concluded.

"They're coming into a locker room where there's really an undivided commitment to a vision, where there's a bunch of unselfish guys who are going to work with them and help them with their initial stages of being a member of this football team over the next month in our OTAs. We're excited to see how it's all going to come together over the next few weeks when we've got them in the OTAs."

The 10 OTAs will be held this Monday, Tuesday and Thursday (May 13, 14 and 16); next Monday, Tuesday and Thursday (May 20, 21 and 23); and Monday through Thursday, June 3-6. The Bears will then cap their offseason program with a mandatory full-squad minicamp June 11-13.

Long-distance learning: First-round pick Kyle Long will be forced to miss the rest of the offseason program due to an NFL rule that prevents rookies from participating in workouts until their college class graduates.

But that doesn't mean that the guard from Oregon won't keep in close contact with the Bears and offensive coordinator/offensive line coach Aaron Kromer.

"With technology today he won't physically be here, but he'll be able to get over Skype or use some sort of method to make sure that I can meet with him and we can keep him up to date on what we're putting in offensively and the techniques we can use," Kromer said. "I can technically watch tape with him over Skype. There are a lot of things we can do. So physically he won't be here, but mentally he will."

Long intends to study his playbook, continue to work on fundamentals with longtime NFL offensive line coach Tony Wise, and communicate frequently with Bears coaches.

Versatility is key: Long lined up primarily at right guard in rookie minicamp, but he also took some reps at right tackle Sunday. Fifth-round pick Jordan Mills predominantly played his natural right tackle position, but also saw some action as guard.

"On game day you're going to dress seven linemen," Kromer said. "When you only dress seven linemen they have to be multiple-position players, so they have to be versatile and that's what I'm doing."

Kromer acknowledged that it's virtually impossible to evaluate Long and the rest of the offensive linemen when they're wearing shorts and participating in non-contact practices.

"This is an opportunity for all the linemen, especially Kyle, to get his footwork right and to understand what we're trying to get done in these run plays and pass protections," Kromer said. "That's all it is because when you're in shorts you can't really do what linemen do, and that's block and be physical. But what you can do is execute your assignment and execute your techniques, and that's what we worked on."

College pride: Long and seventh-round pick Marquess Wilson, a receiver from Washington State, spent part of the weekend ribbing each other about a game between their colleges last season.

Wilson tied a school record with 12 receptions for 182 yards and one touchdown in a 51-26 loss to Oregon last Sept. 29 in Pullman.

"We've had a couple talks about that," Long said with a smile. "I said I stopped counting after we scored 42 points against Washington State, but he's been smack-talking me about that. He said he had like 20 catches. I guess it was 12, so I can call him on that. When they throw the ball 100 times, it's not too hard to get 12 catches."