The Bears may need an entire vat of Listerine to wash the bad taste out of their mouths following Sunday's disappointing 23-17 overtime loss to the Seahawks at Soldier Field.
As painful as it will be, they'll study tape of the game and hopefully learn from their mistakes before starting to prepare for Sunday's NFC North clash against the Vikings in Minnesota.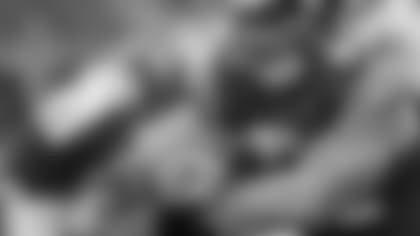 Stephen Paea sacked Russell Wilson on this play, but the rookie quarterback led the Seahawks to a 23-17 overtime win Sunday.
"We're going to watch the video," coach Lovie Smith said Monday. "It hasn't been a great 24-hour period for us, but we will bounce back and we have to to get ready for the Vikings."
Corrections seem to be needed most on defense after the Bears allowed a season-high 459 yards to a Seahawks offense that entered Week 13 ranked 27th in the NFL.
The Bears were torched Sunday by rookie quarterback Russell Wilson, who engineered touchdown drives of 97 and 80 yards on Seattle's final two possessions to win the game. Escaping the pocket with regularity, Wilson passed for 293 yards and two TDs and rushed for 71 yards.
A day later, Smith couldn't explain why the Bears defense was unable to contain Wilson.
"I wish I knew that," he said. "If I knew that, believe me, we would have done everything we possibly could to contain him. We contain most guys, but sometimes it happens like that. They're better than you on that day, and that's how it was [Sunday]."
While individuals such as quarterback Jay Cutler and receiver Brandon Marshall excelled on offense, Smith had difficulty naming a defensive player who performed well Sunday.
"I can't even point anybody out," he said. "Just about every good defensive game we've played around here we've all had something to do with that player-wise. [Sunday] we all had something to do with that performance that we're not proud of. I still say we haven't had many of those, but it does happen. We've just got to make sure it doesn't happen again."
Sick bay: Chris Conte started Sunday's game at free safety despite being sick, but the second-year pro was soon replaced by super sub Craig Steltz, who played most of the contest.  
"Sometimes guys don't feel well before the game, but you get out there and start feeling a lot better," Smith said. "But for him he tried to go and he just couldn't. It's as simple as that. We could have used him, but he couldn't go."
Injury update: Smith hopes that the three players who missed Sunday's game—receivers Devin Hester (concussion) and Alshon Jeffery (knee) and guard Chris Spencer (knee)—will be able to play against the Vikings.
The Bears coach did not provide any new information about the three players who exited Sunday's game with injuries: middle linebacker Brian Urlacher (hamstring), receiver Earl Bennett (concussion) and cornerback Tim Jennings (shoulder).
"We're evaluating them right now," Smith said. "Hopefully we can get some of them back."
Liked the play: Smith defended the play that the Bears called early in the second quarter when running back Michael Bush was stopped for no gain on fourth-and-one at the Seattle 15.
"That play was a play we wanted to run in that situation," Smith said. "Going into every game we have a play and plays designed for every situation that could come up. That's the play we felt good about. We didn't execute as well as we needed to."
Smith revealed that the concussion Cutler suffered Nov. 11 against the Texans had nothing to do with not calling a quarterback sneak in that situation.
"You can't go on that," Smith said. "Jay is healthy and ready to play. If he had a problem with taking a hit or something like that, we wouldn't be playing him. While he is out there we will do everything that we can to protect him, but you don't go to the extreme like that."