The Bears have been waiting all season for a second receiver to step up and share some of the workload with Brandon Marshall, and that finally happened in Sunday's 26-24 win over the Lions.
Earl Bennett caught five passes for a career-high 109 yards and one touchdown, becoming the first Bears receiver other than Marshall to compile more than 80 yards in a game this season.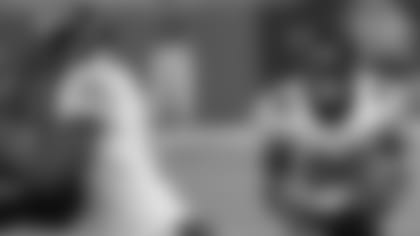 Receiver Earl Bennett races around a Brandon Marshall block for a 60-yard touchdown reception in Sunday's 26-24 win over the Lions in Detroit.
"We needed someone to really step up and Earl did," said coach Lovie Smith. "He's been steady for us for a lot of years around here. It was good to see him play that way today."
Bennett scored the game's first touchdown when he caught a swing pass in the left flat and dashed around a Marshall block for a 60-yard score, the Bears' longest play from scrimmage this season.
"It was an amazing block by Brandon," Bennett said. "I just had to turn the speed on and show everybody that I can run. A lot of people think I can't run, so I had to show everybody.
"I just want to make plays and help the offense out as much as I can. Jay saw the look and we checked and we just went from there. Once you get an opportunity you've got to take advantage of it."
On the run: Playing on a sore ankle that forced him out of last weekend's win over the Cardinals, Matt Forte achieved two personal milestones Sunday.
The Bears running back rushed for 103 yards and one touchdown on 24 carries, topping 100 yards for the third time this season and the 15th time in his career, breaking a tie with Neal Anderson for third place in franchise history behind Walter Payton (77) and Gale Sayers (20).
The Bears are now 14-1 when Forte rushes for at least 100 yards.
Forte also topped the 1,000-yard mark for the third time in five NFL seasons. The two times he fell short of the mark he gained 929 yards in 2009 and 997 yards last year when he missed the final four games with a knee injury.
Lack of punch: The Bears offense struggled to get into the end zone Sunday, settling for three Olindo Mare field goals after starting drives at the Detroit 24, 23 and 13 following takeaways.
"It's disappointing," said quarterback Jay Cutler. "I know it's frustrating for the defense to set us up like that and not being able to convert touchdowns.
"We got the job done; I just wish it would have been a little bit easier. We didn't play the best ball we could possibly play, but we got the win and that's the most important part."
The Bears had to settle for a fourth field goal after Cutler's 10-yard pass to Brandon Marshall had resulted in first-and-goal at the Detroit 4 early in the fourth quarter.
Legging it out: Cutler delivered one of the most important plays of the game with a 19-yard scramble to the Detroit 34 on third-and-three with just over three minutes left in the game.
"It was a two-man route," Cutler said. "They played man. I thought Devin [Hester] might sneak out of there, but they had him covered. I had [Marshall] on a cross. I looked back at him and they had him covered. There was a nice crease backside. The guys blocked it well, and whatever it takes to get a first down at that point."
The Bears picked up another first down two plays after Cutler's scramble on Forte's 13-yard run, and then ran out the clock with three straight kneel-downs.