ST. LOUIS – The Bears were shorthanded due to injuries, but that didn't prevent them from unleashing a big-play offense and a stingy defense Sunday in St. Louis.
The Bears scored touchdowns on 87- and 83-yard passes in the first half and kept the Rams out of the end zone after an early TD in cruising to a 37-13 win at the Edward Jones Dome.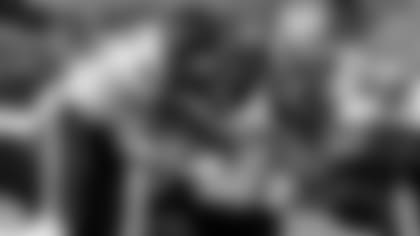 "It is a team game and we clicked as a team probably as good as we have clicked thus far," said coach John Fox. "We did start slow, without a doubt. The offense did a good job of [creating] some explosive plays early to answer."
Jay Cutler passed for 233 yards and three touchdowns in the first half against a Rams defense that had allowed just two TDs in four home games this season. In the process, the 10-year veteran posted a career-high 151.0 passer rating.
Tight end Zach Miller turned a short pass into an 87-yard TD and running back Jeremy Langford transformed a perfectly-executed screen into an 83-yard TD.
Miller's second touchdown reception, a 2-yarder from Cutler, gave the Bears their first lead of the game at 17-10 midway through the second quarter. Chicago never looked back, outscoring the Rams 30-3 over the game's final three-plus quarters.
"We knew coming in that this was an unbelievable defense," Cutler said. "You try to just control the game with some formation stuff, try to get the ball out quick. We knew we were going to need to run the ball consistently and efficiently to be able to compete with these guys. We just got some big plays. Guys on the outside were making some plays. The offensive line blocking and blocking downfield made my life easy."
Just like Monday night in San Diego, the only defensive touchdown the Bears permitted came on their opponent's first possession. St. Louis picked up four first downs on the drive, taking a 7-0 lead on Todd Gurley's 6-yard TD run. But the Bears limited the Rams to a total of four first downs over their next 11 possessions stretching into the fourth quarter.
The Bears improved to 4-5 despite playing without running back Kyle Long, receiver Eddie Royal and outside linebacker Pernell McPhee, all of whom did not travel with the team to St. Louis due to knee injuries.
Langford starred in place of Forte, catching seven passes for 109 yards and one touchdown and rushing for 73 yards and 1 TD on 20 carries. Six days after making a one-handed game-winning TD catch against the Chargers, Miller had five receptions for 107 yards and two TDs.
After playing five straight games decided by three points or less, Sunday's 24-point victory was the Bears' most lopsided since Nov. 4, 2012 when they beat the Titans 51-20 in Tennessee.
The Bears generated two turnovers, the first coming late in the first quarter when linebacker Shea McClellin stripped running back Tre Mason and recovered the fumble at the St. Louis 19. The takeaway led to Robbie Gould's 38-yard field goal, tying the score 10-10.
Late in the game, outside linebacker Willie Young intercepted a Nick Foles pass and returned it 39 yards to the St. Louis 15. Foles completed just 17 of 36 passes for 200 yards and a 53.0 passer rating. He was sacked once—by outside linebacker Lamarr Houston.
The Bears limited Gurley to 45 yards on 12 carries. The Rams rookie entered the contest ranked fourth in the NFL in rushing with 664 yards despite missing the first two games of the season.
Asked about the game plan against Gurley, McClellin said: "Just contain him and make sure everyone's in the right spots. Make sure he doesn't make those cutbacks or hit those holes. I think we did a good job overall."
Gould rebounded after missing two field-goal attempts in San Diego, converting all three of his tries Sunday from 35, 37 and 36 yards and recording seven touchbacks on eight kickoffs.
It was a true team victory for the Bears, who are now 4-2 since their 0-3 start.
"The whole football team is growing," Fox said. "This is a new system with a lot of new players as far as relating to coaches and coaches relating to players. We are starting to know our football team better. A lot has changed over the nine weeks quite a bit. Last week was the halfway point. The way we are trending, I like the way the guys are going about their business."