Campbell provides strong support system for Bears players
---
---
There's a simple explanation why the door to LaMar "Soup" Campbell's office just outside the Bears locker room at Halas Hall is always open.
In his role as the team's director of player engagement, Campbell is always available to players to dispense advice, answer questions or just listen.
Since being hired by the Bears in 2017, the former NFL cornerback has helped players deal with a variety of issues, always focusing on their personal and professional growth. He coordinates programs for veterans and rookies and provides guidance, support and resources to players and their families. It could be assisting them find a place to live, an offseason internship or a charity to support that matches their interests.
"I do think it's very important that his name is recognized because this is life," coach Matt Nagy said during the summer. "This isn't football. That is why he's our director of player engagement. He does a really, really good job of understanding what these players are going through on a daily basis, not even just in 2020 but in prior years. He builds unbelievably great relationships with them. They trust [him]. They understand [him]."
Campbell, 44, has been driven to help others since he was a child growing up in Chester, Pa., just outside Philadelphia. It was a value he learned from his mother, Sharon, a single parent who raised five children with the help of her parents. Sharon Campbell worked at the Chester mayor's office and later at the city's water authority, retiring only a couple of months ago.
Asked what he was taught by his mother, Campbell said: "The work ethic, the dedication and what it meant to be a good citizen."
Campbell also learned about the value of education, particularly from his aunts, who were teachers. "Learning outside of school books and being worldly was very big to them," he said. "They were big travelers. It was a very well-rounded family as far as interests. I was exposed to everything."
Campbell's family actively supported civil rights. They belonged to the Calvary Baptist Church in Chester, the church that Martin Luther King Jr. attended while he studied at the Crozer Theological Seminary from 1948-51. King was mentored by Calvary Baptist Church pastor J. Pius Barbour and served as a Sunday School teacher and youth minister at the church.
Campbell loved participating in sports as a kid, but he preferred playing football, basketball and baseball with his friends at a local park than in an organized league. In fact, the first time he played organized football was as a high school senior. The high school he had previously attended closed down and he was bused to Strath Haven High in suburban Wallingford, Pa.
"That was my first full year of organized football," Campbell said. "I didn't want to give up my two weeks of summer as crazy as that sounds. I was out on the streets. I wasn't a bad kid, but the streets were raising me. I was doing some things, and football saved my life.
"We had a good family. We were poor, but we didn't know that we were poor. There were a lot of drugs and violence. Chester had one of the top murder rates in the country. The locker room and football gave me some structure. It opened a lot of doors for me to see a lot of things I hadn't seen."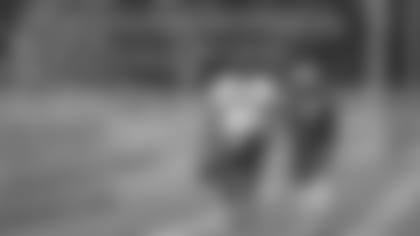 Football helped earn Campbell a ticket out of town and a free college education via a scholarship from the University of Wisconsin. He was generally being ignored by colleges, however, until he starred in a game against Upper Darby High School. A throng of college recruiters were in the stands to see star guard Floyd Wedderburn, a 6-7, 325-pounder who went on to play at Penn State and for four seasons in the NFL with the Seattle Seahawks.
"Everyone came to that game to see him and I ended up having a monster game," Campbell said. "After the game, my phone started ringing. The first time Joe Paterno of Penn State called my house, my mom thought it was a practical joke and hung up on him."
Wisconsin's coach Barry Alvarez had much better luck, opting for an in-person visit at Campbell's home over a phone call.
"When Barry came to recruit me, he pulled up and there were drug dealers on the corner," Campbell said. "He went up to them and said, 'I'm looking for LaMar Campbell.' They were like, 'Who are you?' He said, 'I'm coach Alvarez.' And they said, 'Well, he lives right there.'
"Strath Haven was a really nice school and my neighborhood was really bad. Coaches always wanted to meet me at school because it was safe. Barry Alvarez came to the projects of Chester, Pennsylvania, to recruit me through the drug dealers and all those things to get to my house, and that's why I chose Wisconsin. He was the only coach courageous enough to come to where I actually lived. I respected that, and because I respected that, I chose to go to Wisconsin."
Campbell played immediately as a freshman with the Badgers, which helped his transition to college. But he concedes that it took him a little while to grow accustomed to life in the Midwest. "My roommate didn't lock our door," Campbell said. "And as a kid from the projects in Chester, Pennsylvania, I had a problem with unlocked doors."
During his time in Madison from 1994-97, Campbell was part of a football resurgence that led to bowl-game appearances and winning records in 23 of 24 seasons after Wisconsin had losing marks eight straight years. He also experienced tremendous growth as a person.
"I fell in love with academics," Campbell said. "I fell in love with learning cultures and understanding history. I was really coming out of my shell and being exposed to new things. So that was a phenomenal experience, to play on a great team, to help build that culture. I take a lot of pride in that and what we were able to accomplish."
Although Campbell went undrafted, his football career wasn't over. He signed with the Detroit Lions in 1998 as an undrafted free agent and spent his entire five-year pro career with the organization, appearing in 64 games with 18 starts. Campbell recorded 137 tackles, one interception, one sack, 13 pass breakups, three tackles-for-loss and one fumble recovery. His lone interception came on a pass by Hall of Fame quarterback Brett Favre that Campbell returned 42 yards for a touchdown in a 2000 win over the Packers.
Most undrafted free agents never play in an NFL regular-season game, let alone stick around for five seasons.
"I wasn't a high draft pick," Campbell said. "I wasn't the fastest. I wasn't the strongest. But I understood the mental aspect of the game. I understood the work ethic. I was going to out-work you. I was going to out-prepare you. And whatever deficiencies I had athletically, I was going to make up for them mentally. I always approached practice and games like that. Being able to grow and always self-assess my weaknesses, my strengths and always just focus on getting better, I think that really helped me last as long as I did."
After his playing career ended, Campbell completed his undergraduate degree at Wisconsin and followed by earning a Master's Degree from the school. He was hired as a Big Ten minority intern in Wisconsin's Office of Student-Athlete Development in 2015 before serving as the school's assistant athletic director of student-athlete engagement in 2016-17.
"The thing that was impressive to me was when his playing days were over, he had a plan and a vision of where he wanted to go," said Alvarez, who retired as Wisconsin's full-time coach in 2005 but has served as the school's athletic director since 2004. "He's got so much energy and personality. He was able to focus that, and he knew what he wanted and went and got it. I knew he would really relate to our players well and to our coaches. So I just wanted him [to be] a part of our program."
Before working with athletes at Wisconsin and with the Bears, Campbell was actively involved with helping players transition from football into their next stage of life through "Life After the Game," a consulting firm he founded that collaborated with the NFL, NBA, NCAA and Major League Baseball.
"I always wanted to be able to help people," Campbell said. "That was always just kind of who I was. That's how I was raised. And I was passionate about it. They say find something you're passionate about outside of football and I was always passionate about helping people."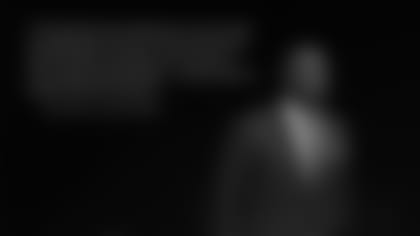 Driven by memory of brother
That passion has also been inspired by the memory of his older brother, Kareem Campbell, who was murdered in Chester when LaMar was a high school sophomore.
"My brother sold drugs," Campbell said. "I'll never forget him sitting me down and telling that he would beat my [butt] if he ever caught me doing that because I could do something different. This wasn't the life for me. I had an opportunity to do something different with my life. He was paying it forward. He didn't want me to follow in his footsteps. He didn't want me in the streets. He knew that there were other things that I could do. He believed in me."
Campbell is also inspired by his 13-year-old son, Jayden, describing his greatest accomplishment in life as "being a dad and having my son watching this journey that I've been on. Understanding the work ethic that goes into it. Understanding seeing that you can still strive and achieve goals no matter what the setbacks might be."
"Being able to be his dad and being able to see him watch me take this journey," Campbell said, "I know has instilled confidence in him as a young black male and what he can accomplish as well."
Campbell's accomplishments with the Bears have increased this year, by necessity. Since March, he's helped players navigate through unprecedented times that have resulted from the coronavirus pandemic and intensified social unrest caused by ongoing racial injustice and police brutality.
For example, Campbell set up a two-hour video team meeting following the death of George Floyd—an unarmed Black man who was killed by a white Minneapolis police officer in May—that was described by participants as powerful, emotional and life-changing.
In the aftermath of Floyd's death, Bears players sought ways to make a difference and effect change. As part of that effort, they were given an opportunity to register to vote when they reported to training camp at Halas Hall in late July. Campbell—along with player engagement coordinator Erika Marmolejo—helped set up that process with assistance from the Lake County Clerk's office.
"He is the conduit to making this thing go in times like this," Nagy said. "We rely on him. We listen to 'Soup.' We take advice from him; we balance it and put it all together. We wouldn't be here without him. He's done a great job."
"He played in the league, so he definitely understands the ins and outs of the game, the league and things of that nature," said linebacker Roquan Smith. "Having someone to depend on and know that when you ask questions, he's always going to shoot it real. It's always good to have a guy like that. I have a lot of respect for him and I'm sure a lot of others would say the same."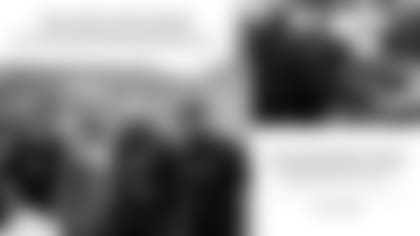 To Campbell, the most rewarding aspect of his job is "watching my players grow and mature, and feeling as though you played a part in that. I get my joy off watching these young men go out and be successful on the field and be successful husbands and fathers as well."
Campbell has two favorite sayings: "If you're good, I'm good," and "always have the perfect state of mind for success." But that doesn't mean his message is the same for every player he works with.
"Every guy is different," Campbell said. "If I have 63 guys in the locker room, I'm talking to the guys about 63 different things. And if there's one thing I'm saying to all 63 guys, I'm saying it in 63 different ways. I think learning to accept them as individuals and not putting them all in one box—understanding their passions, understanding their 'why,' understanding what drives them—the message that I convey to them is based on who they are. What may be for Eddie Jackson and what he is and what he wants to be in his career could be completely different from a Javon Wims depending on what he wants, what his goals are and what he wants to accomplish.
"You want them to be successful on the field, but you also want to make sure that you're extolling in them values and education and make sure that you're advising them on what you experienced not only as a player, but how you can help them. Those conversations are always ongoing and they're always going to be different based on the player."