The Bears were forced to play the entire second half of Sunday night's 13-6 loss to the Texans without Jay Cutler after the quarterback experienced concussion symptoms at halftime.
"He wanted to play," said coach Lovie Smith. "Guys always want to play, but the decision was made for him. Guys always want to play, but he understood he couldn't."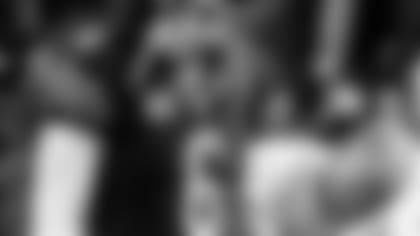 QB Jay Cutler left Sunday's game at halftime after experiencing concussion symptoms.
It appeared that the concussion occurred when Cutler was drilled by linebacker Tim Dobbins on a vicious helmet-to-helmet hit late in the second half. But Smith said he wasn't sure.
"He took a lot of hits, more than he needed to take," Smith said. "No symptoms until the half. He took some shots. We just know at the half that's when he did have symptoms."
After the jarring hit from Dobbins, Cutler took the final seven snaps of the half, completing 1 of 5 passes for four yards and one interception and scrambling for gains of 11 and 19 yards. He exited after connecting on 7 of 14 passes for 40 yards, two interceptions and a 16.7 passer rating.
"Jay is a tough guy," said receiver Brandon Marshall, who had eight receptions for 107 yards. "If he was hurting, he wouldn't tell us. When he was in the huddle, everything seemed normal."
The Bears obviously hope that Cutler will be able to play next Monday night against the 49ers in San Francisco. But they're confident in backup Jason Campbell, who completed 11 of 19 passes for 94 yards and a 70.9 passer rating in the second half against the Texans.
"We're hopeful, but you can't go that far," Smith said. "We just know he has symptoms, which started clearing up after the half. When a guy doesn't finish the game, you've just got to go with that right now.
"It was a seven-point game tonight with Jason leading us in the second half. The backup doesn't normally get a lot of reps during the week. If he has to go, we feel very confident. That's why we brought Jason here. I'm hopeful, but we're not ruling Jay out by any means."
Prior to Sunday night, Campbell had thrown only one pass this season—when Cutler exited briefly after suffering bruised ribs Oct. 22 in a win over the Lions.
"It's tough when you are sitting on the sidelines," Campbell said. "It's not like we were playing against the 31st-ranked defense or anything. The Texans are a tremendous football team. They were doing some good things and taking away the deep balls.
"Coming in off the bench, the one thing I wanted to do was try to get into a rhythm. At the same time, I wanted to keep our team in a good position to score, but not give their defense anything."
Marshall declined to use Cutler's injury as a reason the Bears lost to the Texans.
"It's tough when you lose your starting QB," Marshall said. "[But] there are no excuses. Jason Campbell is more than capable. I think he came in and did an amazing job. It falls on us in that moment to make the plays. I think we let Jason down and the team down. So we'll get back to the tape and try to prepare for San Francisco and be better next week."