Matt Forte closed the season with a flourish, rushing for 110 yards on 22 carries and accounting for three of the Bears' four touchdowns in Sunday's 33-28 loss to the Packers.
The six-year veteran rushed for 1,339 yards and gained 1,933 yards from scrimmage this season, both career highs and the most by a Bears running back other than Walter Payton.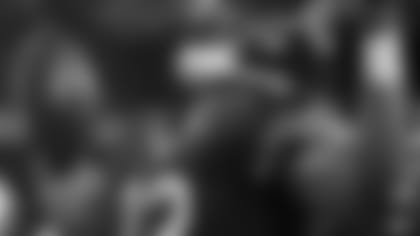 Matt Forte celebrates one of his three touchdowns in Sunday's loss.
"He's underrated, I think, in the public's eye," said quarterback Jay Cutler. "He did a heck of a job for us. I think he's the best all-around back in the NFL. You leave him in there on third down, he pass protects. We throw him the ball on check-downs. He ran the heck out of the ball, up the middle and on the edge. I'm glad he's on our team. He's fun to play with."

Forte's nine rushing TDs this season are the most by a Bears player since Thomas Jones had nine in 2005. Forte now has 20 100-yard games, tying Gale Sayers for second most in franchise history.

Strong finish: Cutler completed 15 of 24 passes for 226 yards with two touchdowns, one interception and a 103.8 passer rating in Sunday's loss.

"I thought Jay played very well," said coach Marc Trestman. "I thought he threw the long ball well. He gave guys a chance to make plays. I thought he was efficient throwing the ball inside. I thought he was in total command on what was going on out there."

Cutler finished the season with a career-high 89.2 passer rating, connecting on 224 of 355 passes for 2,621 yards with 19 touchdowns and 12 interceptions.

Marshall plan: With six catches for 74 yards and one touchdown Sunday, Brandon Marshall finished the year with 100 receptions for 1,295 yards and a career-high 12 TDs.

Marshall's 12 TDs are the most by a Bears player since Curtis Conway had 12 in 1995. Marshall's five seasons with 100 or more receptions tie him with Wes Welker and Andre Johnson for the most in NFL history.

Marshall's TD Sunday came on a 5-yard pass from Cutler, who lofted the ball into the right corner of the end zone to beat a blitz. Marshall did a 360-degree spin before hauling in the TD.

"It was a heck of a play," Cutler said. "They had an all-out blitz, I thought they were kind of just bluffing, I left the run on. Then I pulled last second and just threw one up to 'B,' and he did what he does best is make a play for us."

Filling in: The Bears started the same five offensive linemen in all 16 games this season, but the rookie right tackle exited Sunday's game after hurting his foot on the game's opening drive. He was replaced by Eben Britton, who played the rest of the contest.

"Eben Britton, coming in the game for Jordan right from the start, playing a full game like that," Trestman said. "I can't comment on how Eben played on every play, but certainly running the ball effectively and he was a part of that, which is a good thing."

Statistically speaking: For the Packers, Aaron Rodgers completed 25 of 39 passes for 318 yards with 2 TDs, 2 interceptions and an 85.2 passer rating. Jordy Nelson had 10 receptions for 161 yards. James Starks (11 carries for 88 yards) and Eddie Lacy (21-66) combined to rush for 154 yards on 32 carries.

News and notes: Since 2008, the Bears have lost nine of 11 games to the Packers, including four straight and five of six at Soldier Field. ... Green Bay has won 10 of its last 11 season finales and 18 of 20 since 1994.