The Bears are only in the second week of their offseason program, but receiver Josh Bellamy is already impressed with new quarterback Mike Glennon's work ethic and leadership.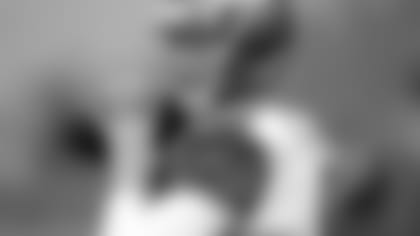 Bears quarterback Mike Glennon has organized workouts at Deerfield High School and an outing to a Bulls game with some of his new teammates.


"Mike's a cool guy, down to earth," Bellamy said Tuesday when he received the Brian Piccolo Award. "We crack jokes all the time. But he's a worker, a workaholic. He wants guys that want to work. He wants everybody on the same page and I like the leadership he brings."
After spending his first four NFL seasons with the Buccaneers, Glennon signed with the Bears March 10. He immediately asked for the cell phone numbers of every player on offense and some on defense as well as the photos and names of each person he'll interact with at Halas Hall.
In his first six weeks or so with the Bears, Glennon has organized workouts at Deerfield High School and an outing to a Bulls game with some of his new teammates.
"What I've seen from Mike is just him taking command," Bellamy said. "He's taking command and he's willing to take all responsibility of what's going on, and that's what you want in a leader. I'm willing to follow and I know everybody else in the locker room is too.
"He's showing leadership with the whole team. He interacts with the players, with his guys. He'll call us up [and ask], 'Hey, you guys want to go to the game,' just building camaraderie and building a brotherhood, and that's all it's about."
Filling the void: Bellamy believes that replacing Alshon Jeffery will be a group effort. After spending his first five NFL seasons with the Bears from 2012-16, the veteran receiver signed a one-year contract with the Eagles.
"Everybody's got to step up," Bellamy said. "Like coach [John] Fox says, 'next man up.' Everybody misses Alshon. He's gone, but it's a new chapter, so we've got to move on and we've got to climb the ladder until we get there."
Bellamy is confident that fellow receiver Kevin White will rebound from serious leg injuries in each of his first two seasons to help fill the void.
"Kevin's a workaholic," Bellamy said. "He's a workhorse, a thoroughbred. He's ready to go. He's healthy, he's looking good, he's running good. So only time will tell when we get on the field and do what we do."
Driven to succeed: Waiting until the fifth round to hear his name called in last year's draft was a bittersweet experience for Bears running back Jordan Howard.
"I didn't go where I thought I was going to be going," Howard said. "So that was kind of a disappointment. But I was very grateful to be selected at all."
Howard opened the season third on the Bears depth chart and closed it as the franchise's first rookie running back voted to the Pro Bowl since Gale Sayers in 1965. Howard set Bears rookie rushing records with 1,313 yards and seven 100-yard games.
He conceded that the draft slide provided motivation "because I thought I was a lot better than a lot of people who got selected before me."
Asked what fuels his success, Howard said: "Ever since I've been playing this game, I always wanted to be the best. That's still my drive. I want to be the best player. I want to make the Hall of Fame. But I also want to win Super Bowls. I want to keep getting better so the team can get better as well."
Contest winner: The winner of this year's Schedule Prediction Challenge is Esperanza Rosales, who earned 59 points in the contest, tops among more than 10,000 entrants. Points were awarded for predicting which opponents the Bears would face during each week of the 2017 season.
Rosales correctly predicted that the Bears would play the Steelers in Week 3, Packers in Week 4, Vikings in Week 5, Panthers in Week 7, Eagles in Week 12, Lions in Week 15 and Vikings in Week 17.
Rosales won two tickets to one Bears home game and two tickets to one Bears road game along with two round-trip United Airlines flights and hotel accommodations to that road host city plus $500 spending cash.
Of the 10,022 entrants in the contest, 542 had the Week 1 game against the Falcons correct, 37 had the first two games correct, three had the first three games correct and only one—Jovanny Gonzalez—had the fourth game correct. Gonzalez had the fifth game correct as well.