If Khaseem Greene needs any inspiration this season, all he'll have to do is look down at his jersey.
The Bears linebacker has switched his uniform number to 52 to honor one of his heroes and close friends, Eric LeGrand, a former teammate and roommate at Rutgers University.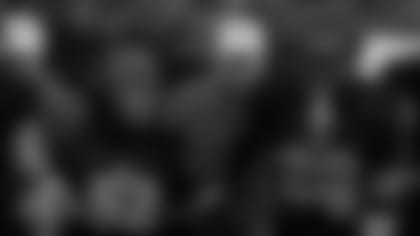 Khaseem Greene (20) helps escort Eric LeGrand onto the field before a Rutgers game in 2011.
LeGrand was paralyzed from the neck down during a 2010 game against Army when he sustained a spinal cord injury while making a tackle on a kickoff. Rutgers has since retired the No. 52, but Greene will wear it proudly for the Bears.

"Just being able to honor him in that way means a lot because he's somebody that motivates me and inspires me every single day," Greene told ChicagoBears.com. "Being able to wear that '52' and just run around and make plays at the highest level is just really special."

Greene wanted to honor LeGrand by wearing No. 52 when he joined the Bears last year as a fourth-round draft pick, but the number belonged to veteran Blake Costanzo. Greene was initially assigned No. 60 before switching to No. 59 before the regular season. With the Bears opting not to re-sign Costanzo this offseason, Greene was able to grab No. 52.

Greene and LeGrand grew up about 10 miles apart in New Jersey. They arrived at Rutgers together in 2008 and quickly became close friends, moving into an off-campus apartment together in 2010.

Asked why they bonded, Greene said: "You respect somebody who works hard all the time. You respect somebody who has a good heart. He was just the light of the room all the time; always had a smile on his face and was always making other people smile.

"Even when he was in the hospital after the injury, he would be cracking jokes and doing those types of things to make other people laugh and feel good. That's the type of person he is."

After LeGrand suffered the catastrophic injury, doctors initially said that he would likely never breathe without the aid of a respirator. Devoted to his rehabilitation, he has since learned to breathe on his own and has even regained some movement in his shoulders and arms.

"I look at his battles, his every-day struggles, his every-day fight, and see that it has not limited his happiness or what he can do," Greene said. "He can't control his situation, but he can control how hard he works to get out of it and that's what he does every single day.

"Watching him workout, seeing his videos on Instagram or just talking to him, his heart is so big. Just to see somebody fight like that gives me a lot of motivation."

Seeing their teammate suffer such a tragic injury devastated the Rutgers football team, which lost all six of its games after LeGrand got hurt. Greene was deeply affected and even considered quitting football until he received a pep talk from none other than LeGrand himself.

"[The injury] made me think about not wanting to play," Greene said. "I talked to my mom and my uncle about not really wanting to play football anymore, not wanting to go through that.

"It even affected my play. It affected my play so much that Eric called me on the phone one day and told me that I was tackling [tentatively]. I'll never forget it. He told me I needed to 'man up' and start playing ball like I used to."

Greene heeded the advice and developed into a star at Rutgers; he was named Big East defensive player of the year each of his last two seasons and set an NCAA record with 15 forced fumbles.

Last season as a Bears rookie, the 6-1, 241-pounder appeared in 15 games with four starts, recording 38.5 tackles, one interception and one forced fumble. As he enters his second year, Greene continues to be motivated and inspired by LeGrand.

"There's no such thing as a tough day for me just knowing what one of my closest friends goes through on a daily basis," Greene said. "I know he would give anything to be in my position. Just knowing that, it keeps me going. It's really an unbelievable story and tragic injury, but the perseverance and the way he carries himself is something that I can hold onto and carry."