Former Bears center Jay Hilgenberg will join NFL commissioner Roger Goodell next Friday night in Philadelphia to announce the team's second-round pick in the draft.
"It's truly an honor to go to Philadelphia and represent the Chicago Bears," said Hilgenberg, who was voted to seven Pro Bowls during 11 seasons with the Bears from 1981-91.
"It's amazing after not playing for so many years to all of a sudden get thrown on the biggest stage there is in the NFL other than the Super Bowl it seems like nowadays."
Hilgenberg will be joined on stage by Kate Foster, a 17-year-old from Rockford. A competitive gymnast, Foster lost her left leg to an infection during treatment for acute myeloid leukemia at age 12 but overcame her illness and returned to the gym less than a year later.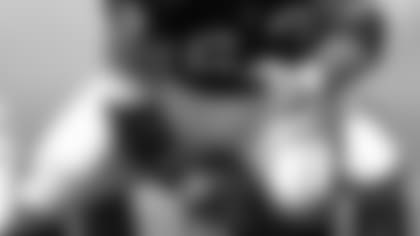 Former Bears center Jay Hilgenberg will announce the Bears' second-round pick in the draft.


Hilgenberg's involvement in announcing the Bears pick is ironic given that his name was never called during the 1981 draft—not through 12 rounds and 332 picks. It's something that he never expected after following in his father's footsteps at the University of Iowa.
"It was very disappointing," Hilgenberg said. "I was hurt my senior year most of the season with a high ankle sprain. I'll never forget after my last game my offensive line coach came in the locker room and said, 'Jay, you're the best center I've ever coached and I think you can play in the NFL, but you're not going to get drafted.' I just kind of laughed at him and said, 'Yeah, right. I thought I was going to get drafted."
Hilgenberg was so upset about the slight that he initially declined the Bears' offer to join the team as an undrafted free agent.
"When [Bears administrator] Bill McGrane called me, I said I really wasn't interested in playing," Hilgenberg said. "He told me to take a couple of days and give him a call back.
"My pride was hurt. I felt at that moment that I didn't want to play in the NFL. I grew up in a football family at the University of Iowa and had seen a lot of guys go the college free agent route and never really make it. I didn't want to go to camp to be a blocking dummy."
Hilgenberg, whose brother (Joel) and uncle (Wally) played in the NFL, changed his mind a few days later and arrived at camp determined to show that he belonged in the league.
"I used that as a chip on my shoulder," he said. "There's no question that that hangs with you your whole career. It's motivation. It's everything. I was all in as a rookie going to my first day of practice."
Getting to work with three Hall of Famers in general manager Jim Finks, coach Mike Ditka and offensive line coach Dick Stanfel, Hilgenberg found himself in an ideal situation to develop.
He ultimately emerged as the anchor of one of the best offensive lines in NFL history, helping the Bears win the Super Bowl in 1985 and lead the NFL in rushing for four straight years from 1983-86.
Dominant at his position, Hilgenberg started seven consecutive Pro Bowls from 1985-91. Yet despite that, he has never garnered serious consideration for the Pro Football Hall of Fame.
"I can't stand guys who sit there and try to tell you how good they were because if you have to talk about that you probably weren't that good to begin with," Hilgenberg said. "But honestly in my mind I thought I'd already be in the Hall of Fame. I don't think it's fair as far as what we did as an offense that I haven't had more consideration."