Rookie receiver Alshon Jeffery followed his impressive performance in Thursday night's preseason opener with an equally strong effort on the practice field Saturday in Bourbonnais.
The second-round draft pick caught three touchdown passes in a red-zone drill, using his 6-3, 216-pound frame to leap high over defensive backs in the corner of the end zone on all three plays.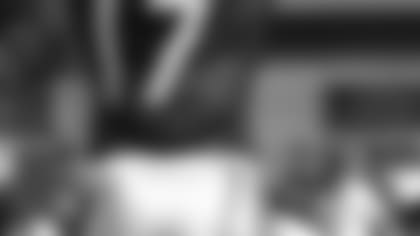 Bears rookie second-round draft choice Alshon Jeffery catches a pass in practice.
"As you look at receivers you want to see production," said coach Lovie Smith. "From OTAs we were talking about how good his hands were, and I think that's just carried on. He's carried that to every situation we put him in. When you give a guy reps, you want to see him perform and make plays and he's been doing that."
Jeffery displayed excellent hands and route-running ability in Thursday night's 31-3 preseason-opening loss to the Broncos, catching a game-high four passes for 34 yards in his first NFL game.
"He was one of the few guys we were pleased with as far as his effort and being able to make plays," Smith said. "He's a good football player and he's getting more and more confidence.
"He's got good size. He's got excellent hands. As a rookie we see improvement from him. He takes coaching well. We could talk on him for a while. We're so pleased with what he did."
On one of Jeffery's TD catches in Saturday's practice, Bears general manager Phil Emery—who was standing near the end zone—ended any dispute about whether the receiver may have been out-of-bounds by raising his hands to signal "touchdown." 
In April, Emery traded up five spots to No.45 to nab a player the general manager told reporters the Bears had ranked as one of the top three receivers in the draft. 
Six wideouts were selected ahead of Jeffery: Justin Blackmon (No. 5 by Jacksonville), Michael Floyd (No. 13 by Arizona), Kendall Wright (No. 20 by Tennessee), A.J. Jenkins (No. 30 by San Francisco), Brian Quick (No. 33 by St. Louis) and Stephen Hill (No. 43 by the Jets).
"We saw a big, dynamic athlete, playmaker falling and we decided that we were going to go after him," Emery said after making the deal to land Jeffery. 
"We feel that Alshon has the best hands in the draft. We feel that he is the best at adjusting to the ball. We feel he is the best sideline and end zone catcher in the draft. He's dynamic with the ball in his hands. He's a big man. He's strong. He's tough. He doesn't go down without a fight."
Jeffery, who entered the draft following his junior season, caught 183 passes for 3,042 yards and 23 touchdowns in 40 career games at South Carolina. His 3,042 yards are a school record and the second most in SEC history.
At training camp Saturday, the Bears distributed a mask featuring a picture of Jeffery's face. But the gesture most likely won't go to the soft-spoken receiver's head, figuratively or literally.
"That's for the fans. I don't get into the hype and all," Jeffery said softly. "I'm just trying to work every day and still trying to learn the offense and still trying to read coverages and make plays and play fast."