As he takes over as head coach of the Tampa Bay Buccaneers, Lovie Smith plans to draw on the situations he experienced during nine seasons in the same role with the Bears.
"My time in Chicago—of course it was my first head-coaching job, so I did learn a lot from start to finish—but it was just a great experience," Smith said earlier this week at his introductory press conference. "As I come here [to Tampa] as a coach that has spent nine years in the league, every situation that will come up I think I've been in. I can draw on all of those experiences to help me in this situation."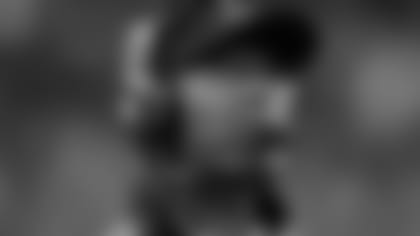 Lovie Smith compiled an 84-66 record in nine seasons as Bears head coach.
Smith coached the Bears from 2004-12. He won back-to-back NFC North championships in 2005-06, but failed to lead the team into the playoffs in five of his final six seasons.

The Bears finished a respectable 10-6 in 2012, but they stumbled down the stretch to become the first NFL team since the 1996 Redskins to miss the playoffs following a 7-1 start. He was relieved of his duties and spent the 2013 season out of football.

During his tenure in Chicago, Smith built a dominant ball-hawking defense that led the NFL in takeaways both during his nine seasons with 310 and in 2012 with 44. The Bears also traditionally boasted one of the league's best special teams units led by coordinator Dave Toub.

But Smith's downfall was a Bears offense that consistently struggled under four different coordinators—Terry Shea, Ron Turner, Mike Martz and Mike Tice. In terms of total yards, the unit ranked 32nd, 29th, 15th, 27th, 26th, 23rd, 30th, 24th and 28th in the NFL.

In Tampa, Smith has hired former Cal head coach Jeff Tedford as his offensive coordinator.

"When you have a year off, you can do a lot of things and what I concentrated on—I prayed I would be back in the league this time of the year, so I wanted to get that ideal coaching staff in place," Smith said. "I did a lot of research, talked to a lot of different people, other quarterbacks in the league.

"For my offensive coordinator position, I wanted to get a guy that had been a primary quarterback guru; that knew that position in and out. My research led me to Jeff Tedford. After that, I looked at his track record and what he had done, especially at [the University of California]—what he had done offensively—and I brought him in."

Tedford was Cal's head coach from 2002-12. During his tenure, he set school records with five bowl wins and 50 conference victories, and produced 40 players that were selected in the NFL draft, including Packers quarterback Aaron Rodgers.

"We spent a couple of days together down in my basement in Chicago and kind of merged our philosophies—and they weren't off—on how we wanted to play offensive football," Smith said. "And I'm talking about a strong running game, a power running attack. I think you have to have balance with your offense. We plan on having a balanced offensive attack. But at the same time, when I say balanced with the run, [I include] being able to pass the ball and have a big-play ability in the passing game."

Former Vikings head coach Leslie Frazier, a Bears cornerback from 1981-85, will serve as Smith's defensive coordinator.

"I'm excited about Leslie Frazier being my defensive coordinator," Smith said. "I had a chance to get to know Leslie first when we were both assistant coaches, him as a defensive coordinator for the Minnesota Vikings and then lately of course having an opportunity to compete with him. He's a great man ... and a great leader. It was a no-brainer really to get him, for us to merge together. We always wanted to work together."

In 2014, the Bears are slated to face Smith and his former coordinators Mike Tice (Falcons offensive line coach) and Rod Marinelli (Cowboys defensive line coach).