PHOENIX – Just like all Bears fans, George McCaskey was very disappointed with last year's 3-13 record. But the team's chairman sees progress and is convinced that general manager Ryan Pace and coach John Fox will help spear head a resurgence.
"We have confidence in Ryan and John," McCaskey said Wednesday at the NFL owners meetings. "We want to build through the draft. Ryan said that in his interview when he said he was interested in coming to the Bears and we like how he's stuck to that plan.
"We saw it last year when we had three rookies on the Pro Football Writers of America all-rookie team: Cody Whitehair, Leonard Floyd and Jordan Howard. And that's what we need to keep doing; keep building through the draft.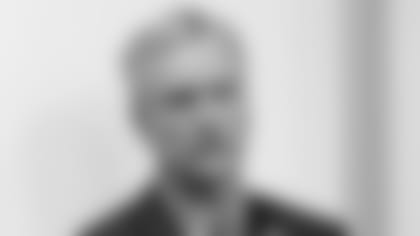 Bears chairman George H. McCaskey sees progress and believes that GM Ryan Pace and coach John Fox will help lead a resurgence.


"I told Ryan he should get ripped this time of year every year for not being more active in free agency, and that's because we're developing our own guys and rewarding our own guys."
Pace has selected a total of five players in two drafts with the Bears who were voted All-Rookie; nose tackle Eddie Goldman and safety Adrian Amos were chosen in 2015.
Pace has also applied a responsible and disciplined approach to free agency, filling several holes with reasonable contracts. He has said on multiple occasions that he believes teams can recover from a player it didn't sign much easier than from one it signed at an inflated price.
"We like him," McCaskey said of Pace. "We haven't had the results that we wanted obviously. Everyone is disappointed in that. Ryan's disappointed. John's disappointed. But I've been impressed with him as a leader, as an evaluator of talent. And one of the things I've been most impressed by with him is the discipline he's shown just as recently as this free agency period.
"He didn't want to overpay guys. Too often, I think, you overpay guys who don't come through for you and then you have a big hole in your salary cap and you're behind the eight-ball. I like the discipline he has shown, the restraint he has shown in free agency."
Asked about the outside perception that the Bears need to win this year for Pace and Fox to maintain their job security, McCaskey said: "We're not on any particular timetable that somebody else is wanting to set for us. We're wanting to see continued progress toward our goal of sustained success."
McCaskey discussed a handful of other topics with reporters Wednesday at the Biltmore Hotel.
On whether the Bears lack a "face of the franchise:"
"I think leaders emerge. Kyle Long has that capability, just to name one. But we need players that the fans can rally behind, and with John and Ryan, I think we're going to do that."
On the Bears emailing a message from Pace to season-ticket holders:
"That was new. We're always looking for ways to touch base with our fans. We understand these days, especially, that we have a lot of work to do. Our fans are disappointed, and rightly so, and we need to get back to Bears winning ways."
On the Bears raising ticket prices for the 2017 season:
"I don't know that there's ever a good time to raise ticket prices, but that's partly a function of our small capacity. We're one of the smallest, if not the smallest, stadiums in the NFL. We try to keep the expense down as much as possible, as witnessed by two years in which we didn't raise prices. Sometimes it just becomes necessary. You try to be reasonable about it. You try to explain the reasons for it to people and hope they continue to support you. Bears fans have been just unbelievably supportive through thick and thin over decades, and I had a chance to see that firsthand in 20 years in the ticket office. It's something we don't take lightly. We celebrate it and do everything we can to hold on to that."