With the Bears returning all 11 starters from last year's record-breaking offense, veteran left guard Matt Slauson thinks the unit can be even better in 2014.
"Our potential is off the charts," Slauson said on the Bears All-Access radio show on WSCR-AM 670. "We have the ability to be one of those high powered explosive offenses and that's really exciting for me because I've never been a part of an offense like that in my whole career."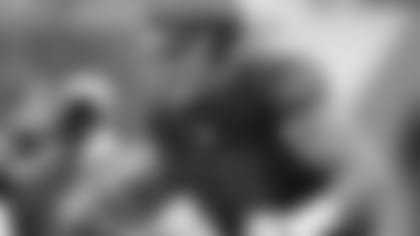 In his first season with the Bears, Matt Slauson started all 16 games on a record-breaking offense.
In their first season led by coach Marc Trestman and offensive coordinator Aaron Kromer, the Bears ranked second in the NFL with 445 points and set franchise records with 6,109 total yards, 4,450 passing yards, 32 passing touchdowns, a 96.9 passer rating and 344 first downs.

While Slauson is confident that the offense is capable of even more in the second year in the system, he understands that it won't just happen by itself.

"We have to make sure that we're holding up our end of things and we don't take it easy and assume that it's going to happen," Slauson said. "We have to make sure that we hit the ground running and we go in there and build off what we were able to accomplish last year."

The Bears revamped their offensive line last offseason, signing Slauson and left tackle Jermon Bushrod in free agency and picking right guard Kyle Long and right tackle Jordan Mills in the draft. Slauson joined the team after spending his first four NFL seasons with the New York Jets.

Although the Bears were decimated by injuries on defense in 2013, all five of their offensive linemen started all 16 games. With cohesiveness up front, the Bears allowed only 30 sacks, tied for the fourth fewest in the NFL, and Matt Forte rushed for a career-high 1,339 yards, the most by any Bears player other than Hall of Famer Walter Payton.

Slauson credits much of the offense's success to Kromer, who doubled as the line coach last season, a job he has since relinquished to assistant Pat Meyer.

"Kromer's great," Slauson said. "We all respect him tremendously. He's got great ideas and great techniques. But the thing that a lot of us [like], especially the older guys on the line who have been used to doing it different ways or certain ways, he's open to work with us, and a lot of coaches aren't necessarily like that.

"He likes to get feedback on what we think works, on what techniques we've had a lot of success with in the past. He likes the give-and-take. He doesn't coach us as a superior. We're all equals there and that's something that's talked about by Trestman, so it's a really great work atmosphere."