Summerville driven by lifelong love of football
---
---
Football has been a primary passion in Sam Summerville's life since even before the Bears area scout entered Kindergarten.
"My mother says I was three years old the first time I said I wanted to play in the NFL," said the 35-year-old. "Basically every school project I ever got, if I got to choose what I wanted the topic to be, I would somehow find a way to relate it to football. I knew football was 'it' as far as I could remember."
Summerville fell short of his childhood goal to play in the NFL, but he has blended his love for the game with a dogged determination to reach the pinnacle of the sport as a scout. Instead of scoring touchdowns or sacking the quarterback, he helps the Bears procure talent for their roster.
Since being hired in 2012, Summerville has been an integral part of the organization. Responsible for the southeast portion of the country, he has helped the Bears land Roquan Smith, Eddie Jackson, Tarik Cohen and Eddie Goldman, among others.
According to James Kirkland, who scouted with Summerville for the Bears and prior to that for the Cleveland Browns, the key to Summerville's success is being curious and unbiased.
"He wants to know the 'why' behind what he's seeing on the surface," Kirkland said. "The other part is he's impartial. I always used to tell him, 'You're like the two yellow lines in the middle of the road.' As a scout, everybody brings their own biases, their own past experience into every situation in terms of when you're evaluating a player. Sam's not like that. Sam is more like, 'OK, I'm going to watch this guy and I'm going to see what he brings to me and I'll be able to give a fair and impartial evaluation.'
"You'll run into some evaluators who will say, 'This dude is too small; he can't play.' But Sam is very diligent. He's very impartial and he's very inquisitive, and as a result he can come out with a good, fair evaluation on a kid."
Growing up in Indianapolis the oldest of Steve and Fonda Summerville's four boys, Sam and his brothers played a lot of football—both outside and inside the family home.
"We would always play 'behind-the-couch' football," Sam said. "The older kids ran around on our knees and the younger kids were allowed to stand up, and we would tackle each other. We put a hole in the back of the couch at one point and had to move the couch back against the wall so nobody would be able to see it."
While Sam and his brothers loved football, their parents ensured that they were involved in a variety of other activities. Sam recalls taking tennis and golf lessons and participating in a public speaking program in elementary school. Later as a student at Pike High School, Summerville won a national award in a competitive speaking event.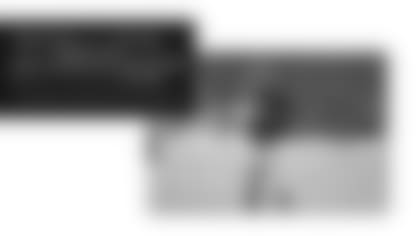 Enrolling at an HBCU as a student/athlete
On the football field at Pike, Summerville wasn't attracting any interest from colleges. Nevertheless, he was determined to continue his playing career at a historically black college/university (HBCU). Summerville grew up watching the annual Circle City Classic that has been held every year in Indianapolis since 1984 between two HBCU schools. In addition, he's always been interested in African-American history.
"Black history was always really important to me. [An HBCU] was a place I could learn more about struggles, triumphs and contributions by Black people in America throughout the years," Summerville said.
Summerville received a full academic scholarship to Jackson State University—the alma mater of legendary Bears Hall of Famer Walter Payton—and was given the chance to join the football team as a walk-on at linebacker. He loved his time as both a student and an athlete, describing it as "a family atmosphere" and "a nurturing environment."
Summerville was hardly a star on the field, but he nonetheless appreciated the opportunity to keep playing his favorite sport.
"I was the guy that coaches really love having on the team: low maintenance. Does everything right. Works hard. Not super-talented. But you know he's going to be where he's supposed to be," Summerville said. "I played some in garbage time here and there. I was a special-teams guy, running down on kickoffs. But I didn't have a really prolific career or anything like that."
Journey to becoming a scout
Maybe not as a player, but Summerville was beginning to embark on his path to the NFL as a scout. Every summer during college, he'd return home to intern for the Indianapolis Colts, handling a variety of different responsibilities in the football operations department. Summerville helped set up workouts for free agents, drove players to and from the airport, maintained magnets on a personnel board and weighed players.
Summerville's relationship with the Colts had actually started when he was a high school freshman. As part of a class assignment, he had to find someone in an industry he was interested in to shadow for a day. He heard Colts running back Edgerrin James doing an in-studio radio interview and brazenly called the station to speak with him.
Encouraged by James to contact Colts executive Steve Champlin, Summerville did just that and was granted an opportunity to shadow Champlin and former Colts receiver Bill Brooks, who was working in the team's marketing department. That initial encounter led to Summerville landing an internship in the Colts' community relations department during high school and later in football ops as a college student.
"I got a chance to work with the personnel department a lot during those summers," Summerville said. "I really feel like those internships with the Colts gave me a really well-rounded picture of what football operations was about."
Scouting was the aspect of football ops that Summerville enjoyed most. So after graduating from Jackson State with a Bachelor's degree in business administration, he landed his first NFL job with the Philadelphia Eagles in 2007 as a pro personnel assistant. He held that position until 2009 when he joined the Browns as a player personnel assistant, and remained in Cleveland until being hired by the Bears in 2012.
"Basically every school project I ever got, if I got to choose what I wanted the topic to be, I would somehow find a way to relate it to football. I knew football was 'it' as far as I could remember." Sam Summerville on his passion for football
Life as a scout is a 24/7 endeavor
To Summerville, being a scout isn't what he does; it's who he is.
"Being a good scout is not something you can turn on and turn off," he said. "You have to be constantly working to improve your craft. It also pertains to continuously gathering information and expanding your Rolodex of players who you can make comparisons to. Scouts always know the best restaurants and the best hotels because we are constantly trying to identify the best in everything."
Summerville takes pride in the relationships he's developed over the years—something he was forced to rely on this year when the COVID-19 pandemic prevented scouts from traveling to college campuses and attending practices.
"I've been able to pick up the phone and call people who I trust and who I know are going to tell me the truth," Summerville said. "It's a lot easier for people to give you the company line when you're talking to them on the phone, so you've got to find people that you connect with and build a real relationship with."
Summerville regularly communicates with coaches, academic advisors, nutritionists, strength coaches and administrative assistants. A few years ago he wisely began to gather contact information for his Omega Psi Phi fraternity brothers who work in the NFL and in college football across the country—and his list has since grown to 140 individuals.
"I've used that to connect all of us to each other," Summerville said. "That helps me because I've got somebody that I already have something in common with when I got to a school, or when I reach out to somebody there's already kind of a built-in relationship."
In 2019, Summerville was honored at the NFL Combine in his hometown of Indianapolis by the Fritz Pollard Alliance as the NFC Scout of the Year. Founded in 2003, the Fritz Pollard Alliance promotes diversity and equality of job opportunities in the coaching, front office and scouting staffs of NFL teams. It's named after the first African-American head coach in NFL history; Fritz Pollard coached the Akron Pros in the league's first two years of existence in 1920-21.
"Scouts don't get recognized a lot," Summerville said. "We kind of work in the shadows behind the scenes. So given that kind of recognition, it's amazing. To have to come from an organization like that just took it over the top."
Summerville lives in Indianapolis with his wife, Dawn, and their two children, daughter Sydney, 6, and son Elijah, 3. Summerville gives back to the community where he was raised by hosting the annual Seville Skills Camp, a youth football camp and high school showcase that's free for students with a GPA of at least 3.0.
"He's really big on service, but if I had to pick his best quality, I would say it's his strong character," said Anthony Hales, Summerville's former college roommate, teammate and fraternity brother who assists with the Seville Skills Camp. "He's always had strong character and morality."