The Chicago Bears and Bears Care celebrated Salute to Service week by hosting various events presented by Cigna as part of the organization's commitment to active duty military and veterans among other community oriented events.
Salute to Service Week:There were several exciting military appreciate events leading up to Veterans' Day, with additional ones scheduled throughout the month of November.
• Topgolf with Wounded Warriors: Bears Vice President Brian McCaskey, Eddy Pineiro, Pat O'Donnell and Pat Scales, along with alum Jim Thornton and Jay Hilgenberg were paired with Wounded Warriors and veterans from Cigna to play at Topgolf. The Wounded Warriors Project aims to honor and empower Wounded Warriors who incurred a physical or mental injury, illnesses or wound during military service on or after September 11, 2001.
• Hines VA Hospital Visit: Bears Vice President Patrick McCaskey, alum Johnny Knox and Staley Da Bear visited with veterans at the Edward Hines, Jr. VA Hospital, which serves veterans and offers primary, extended and specialty care.
• Veterans Job Fair and Panel: The Bears hosted a panel discussion with Bears staff, who have previously served in the military or grew up in a military family, for more than 50 local veterans at the PNC Center at Halas Hall. Panelist included Bears Chairman George H. McCaskey, Scouting Assistant JJ Cosh, Bears Security Karlstrand, former Strength and Conditioning Coach Clyde Emrich and alum Jason McKie, Following the panel, was a job fair with companies including CDW, Cigna, Jewel-Osco, Verizon and Windy City Limo, all of which aim to hire veterans.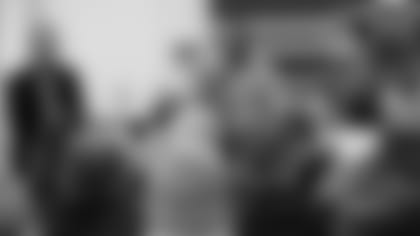 Bear Hugs: The Chicago Bears and Magellan Corporation continue to brighten the spirits of deserving children through wish-granting experiences and hospital visits. Chairman George H. McCaskey, Alex Bars and Staley Da Bear visited Mt. Sinai Hospital's Schwab outpatient therapy gym and SCI's after school program as part of the Bear Hugs program. They handed out teddy bears to patients and helped children with homework.
High School Coach and All-Star of the Week: The Chicago Bears Coach and High School All-Star programs recognize outstanding high school football players and coaches. The "Coach of the Week" program entered its 24th season this year and honors outstanding Illinois high school coaches who develop players' football skills and knowledge, character, leadership, discipline and teamwork abilities. The "High School All- Star" criteria includes on-field performance, community involvement and good sportsmanship. All honorees will be recognized at the Bears vs. Kansas City Chiefs game on Sunday, December 22, 2019 at Soldier Field. The "Coach of the Week" and "High School All-Stars" programs are brought to you by Athletico Physical Therapy.
2019 Coach of the Week winners include:
Week 1 - Coach Brian Griffin form Hinsdale Central High School
Week 2 - Coach Trevor Higgins from Pana High School
Week 3 - Coach Ryan Wilkens from Glenbard North High School
Week 4 - Coach Jordan Lynch from Mt. Carmel High School
Week 5 – Coach Brian Melvin from Burlington Central High School
Week 6 – Coach David Inserra from Maine South High School
Week 7 – Coach Adam Nissen from St. Laurence High School
Week 8 – Coach Bob McMillen from St. Francis High School
Week 9 – Coach Rob Howard from Beardstown High School
2019 High School All-Star winners include:
Week 1 – Jalen Moore from Glenbard West High School
Week 2 – Daniel Jezik from Coal City High School
Week 3 – Stuart Ross form Springfield Southeast High School
Week 4 – Deontay Bell from Montini Catholic High School
Week 5 – Tommy Rittenhouse from St. Francis High School
Week 6 – Jordan Hansen from Hersey High School
Week 7 – Ian Ridge from Elk Grove High School
Week 8 – Mar'Kiese Irving from Hillcrest High School
Week 9 – Trent Howland from Joliet West High School