Tucker's success fueled by love for his profession
When Andre Tucker strolled into the registrar's office to sign up for classes as a freshman at Chowan University in North Carolina in 1996, he had no idea what type of career he wanted to pursue.
But when Tucker exited the building 30 minutes later—even though he didn't realize it at the time—he took his first steps on a path that would lead him to become the Chicago Bears' head athletic trainer.
"I remember walking into the office and they asked me what my major was going to be and what I wanted to do [for a living]," Tucker said. "I said, 'You know what? I have no idea. I'm not really sure.'"
Tucker was then asked what he was most passionate about.
"I said, 'I love sports and I love to help people,'" Tucker said. "So the gentleman said, 'Why don't you try athletic training?' I'd heard about it before, but I didn't know a ton about it. But I said, 'Why not?'
"I tried it, absolutely loved it—because it was a smaller school, I got a ton of hands-on experience—and I fell in love with the profession."
Tucker had grown up dreaming about playing in the NBA. When he realized as a teenager that wasn't a realistic goal, athletic training was the next best thing. For Tucker, the most rewarding aspect of the profession—both then and now—is "knowing that when an athlete returns to doing what they love, that you were a part of that reason."
"That never gets old," Tucker said. "I still love that to this day."
As a junior in 1998, Tucker transferred to Florida International University, where he worked for head athletic trainer Julie Berg. Tucker obtained a Bachelor of Science degree in athletic training from FIU in 2001 and remained at the school to earn a master's degree in sports management in 2003.
During his final year at FIU, Berg recommended him to Miami Dolphins head athletic trainer Kevin O'Neill for a seasonal internship with the Dolphins.
Tucker was hired and made a very positive first impression.
"He acted like a professional from the day he got there as a student," O'Neill said. "His mouth didn't run. He came in and listened, he asked good questions, he worked his butt off, he ran and hustled everywhere he went and he was good one-on-one with my athletes. If I gave him a treatment or a rehab to do, he showed promise and showed good hands-on ability in doing those things, which I thought was great."
With a serious and attentive demeanor, Tucker quickly earned the trust of Dolphins players.
"It's not my quote, but there's a quote that says: 'They don't care how much you know until they know how much you care,'" O'Neill said. "It's establishing the level of confidence and trust that's critical for the athlete to believe in what you're telling him and to want to buy in and follow and then do the things you're asking him to do to get well. I feel like he had that factor going for him when he walked in the door.
"He came in well-schooled and he came in with the right kind of attitude. He wasn't asking for autographs or seeing who he could hang out with or any of that stuff. He was there to work and to get better and to learn and to grow, and he did."
The valuable experience that Tucker gained during his one season with the Dolphins in 2003 helped catapult him to a successful NFL career. But he recalls that his first day on the job wasn't exactly what he was expecting. While Tucker envisioned himself working with players, he instead spent the day doing nothing but grunt work like setting up the field, filling water bottles and putting Gatorade bottles in coolers.
"Believe it or not, my first day I was like, 'You know what? This ain't for me. This is way too much work. I'm going back to college,'" Tucker said with a laugh. "But I'm not a quitter. So I had to kind of check myself and say, 'You know what, it's the first day, give it a chance. It's overwhelming, but you just have got to get a routine and hopefully things will get a little bit more manageable,' and that's exactly what happened."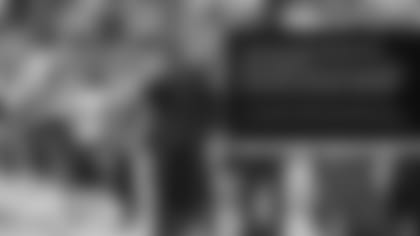 Obtaining a full-time position
After his one year with the Dolphins, Tucker landed his first full-time NFL job; he was hired by the Jacksonville Jaguars as an assistant athletic trainer—after O'Neill had recommended Tucker to Jaguars head athletic trainer Mike Ryan.
"When he finished with us, Jacksonville had a job open," O'Neill said. "I knew their guy and I called him and said, 'If you interview this guy, you'll hire him,' and he did."
"Kevin O'Neill raved about him, and as soon as I met him, I loved him," Ryan said. "He's one of my favorites."
Ryan could see the potential in Tucker immediately.
"I thought he was really serious for his age," Ryan said. "He had a good sense of being a professional. Young guys at that age sometimes can come in a little naïve about stuff. I never got that sense about Andre. From Day 1, Andre was always serious, a guy that you knew was going to be a head [trainer] because he had that professional 'I-just-want-to-get-better' attitude. And in sports medicine, that goes a long way. I was impressed with him from the start."
Tucker paid his dues, spending 14 NFL seasons as an assistant athletic trainer with the Jaguars (2004-07), Atlanta Falcons (2008-09) and Cleveland Browns (2010-17) before landing his first head athletic training position with the Bears in 2018 as part of coach Matt Nagy's original staff.
"From Day 1, Andre was always serious, a guy that you knew was going to be a head [trainer] because he had that professional 'I-just-want-to-get-better' attitude. And in sports medicine, that goes a long way. I was impressed with him from the start." Former Jacksonville Jaguars head athletic trainer Mike Ryan on Andre Tucker
It's been a long journey for Tucker, one that began even before he enrolled at Chowan University. The Bears head trainer was born and raised in Kingston, Jamaica, before he and his family moved to the United States—first to Connecticut—when he was seven years old. Four years later, Tucker and his mother relocated to Port Charlotte, Fla.
Tucker's mom, Yvonne Mason, was a single parent who worked as an administrative assistant most of her adult life. She spent more than 20 years employed by a school board in Florida before retiring seven months ago. Tucker is an only child, but he has a large extended family; his mother is the oldest of eight siblings. Tucker is also a father of three: His son, Amari, 11; and 8-year-old twin daughters, Marley and Kai.
Tucker became a United States citizen in his mid-20s, but he remains fiercely proud of his heritage, saying "I'll always be Jamaican by blood."
Serving a dual role with Bears
Tucker is also proud of the dual role he's serving with the Bears. In addition to his duties as head athletic trainer, this offseason he was also named the organization's infection control officer. It's a position the NFL mandated each franchise to create to coordinate all COVID-19-related issues.
In his role as the Bears' ICO, Tucker is responsible for the COVID-19 screening protocol, ensuring that the cleaning and disinfection program at Halas Hall meets CDC and ICS guidelines and that there's signage throughout the building regarding health policies and COVID-19 best practices, such as stopping the spread of germs and guidance for those who experience virus-like symptoms.
"Hopefully you guys can see how fortunate we are to have Andre as our head trainer," general manager Ryan Pace told reporters during a Zoom call in the spring. "He's been a rock star through this whole process."
Tucker believes the key to his success involves preparation, hard work and leaning on others with more experience. In addition to Berg, O'Neill and Ryan, other mentors to Tucker have included Joe Sheehan [with the Jaguars and Browns] and Ron Medlin [with the Falcons], the brother of longtime Bears head equipment manager Tony Medlin.
The advice that Tucker would give to young aspiring athletic trainers is simple: "It's listening and asking questions," he said. "For some reason, everyone's always nervous to ask questions because they feel like the question may sound stupid or it may not be appropriate. But listening and asking questions is the only way you're going to learn."
"Hopefully you guys can see how fortunate we are to have Andre as our head trainer. He's been a rock star through this whole process." Bears general manager Ryan Pace on Andre Tucker leading Bears through COVID-19