Sidelined for nearly two weeks with knee soreness, Brian Urlacher
told reporters Sunday in Bourbonnais that he would be ready to play in the Sept. 9 regular-season opener against the Indianapolis Colts.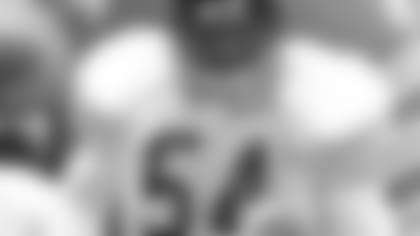 Bears star middle linebacker Brian Urlacher insists that he'll play in the season opener.
Asked about a timetable for his return, the star middle linebacker said: "Sept. 9, I'll be ready to play for sure. That's really all that matters to me. Preseason games and all these practices, I'd love to be out there. But I'm not going to put myself in jeopardy of missing the first game."
Urlacher sat out the entire offseason program while recovering from a knee injury he suffered in last year's season finale in Minnesota. The eight-time Pro Bowler participated in the first four training camp practices but hasn't worked out with his teammates since July 31.
"I hate sitting out," Urlacher said. "I practiced the first four or five days and felt pretty good, and then it got sore and a little swollen, so I'm taking some time off right now."
Urlacher revealed that the rest has helped his knee.
"I've been off for nine, 10 days now," he said. "It feels better. I'm not running around on it, so of course it's not going to swell up as bad."
Urlacher is confident that the knee soreness won't linger.
"Once I'm back out there again we'll monitor my reps and try to make it where it doesn't blow up again," he said. "I felt great coming into training camp. The brace doesn't allow me to do a lot of things, but I still ran pretty fast and moved around pretty good." [ ](http://www.phoenix.edu/campus-locations/il.html?utmsource=Story&utmmedium=instory&utmcampaign=300x100)
Asked if he sought a second opinion, Urlacher said: "Our doctors are the best. I trust what they say, and our trainers. I just do what I'm told to do."
Urlacher declined to shed any light on the reason he was excused from camp last week.
"It was a personal reason, just like coach [Lovie] Smith said," Urlacher said.