The Bears won a game Thursday night but lost another defensive starter with a season-ending injury.
The team announced Friday that middle linebacker D.J. Williams sustained a ruptured left pectoral tendon and will miss the rest of the season. He was injured late in the third quarter.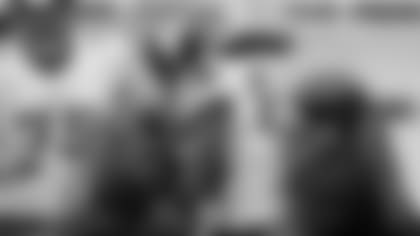 Middle linebacker D.J. Williams (left) teams up with Lance Briggs to tackle Vikings receiver Cordarelle Patterson in a Week 2 win at Soldier Field.
Williams signed a one-year contract with the Bears in March after spending his first nine NFL seasons with the Denver Broncos, where he teamed with Jay Cutler and Brandon Marshall.

After missing the entire preseason with a calf injury, Williams played in each of the first six regular-season games with four starts and recorded 35 tackles, two sacks, one forced fumble and two tackles-for-loss.

Williams is the third defensive starter the Bears have lost to a season-ending injury in four games. Tackle Henry Melton tore his ACL in a Week 3 win in Pittsburgh and tackle Nate Collins suffered the same injury last Sunday in a loss to the Saints.

During training camp, nickel back Kelvin Hayden (hamstring) and defensive end Turk McBride (Achilles tendon) also sustained season-ending injuries.

Williams will be replaced by rookie second-round pick Jon Bostic, who started at middle linebacker during the preseason but saw his first regular-season action on defense Thursday night after Williams exited. Bostic was credited with one tackle in the game.

"I thought he was active," said coach Marc Trestman. "He was around the football. It's the next-man-up mentality and I think he's mentally ready to take on playing that position. The experience that he has will certainly help him down the road."

After Thursday night's game, Bostic said that he was ready to fill in against the Giants.

"I wouldn't say anything surprised me," Bostic said. "Anybody can go down at any given time and this is really my first experience with someone going down. This is something to show me you've got to be ready each and every week. You never know."

Bostic said that veteran linebacker Lance Briggs advised to play at full throttle.

"Lance always says if you are going to make a mistake, make it full speed," Bostic said. "So I was trying to [play at full speed]. Obviously there are going to be a lot of things I need to clean up on. I just have to get back, make those adjustments and try to get better."

Linebacker James Anderson also left Thursday night's game in the second half with a back issue, but his injury is not believed to be serious.

"I think he'll be OK," Trestman said. "It was nothing severe."