The Bears defense usually performs pretty well against quarterbacks who can both pass and run, but that certainly wasn't the case Sunday at Soldier Field.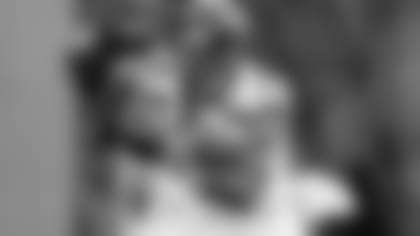 Russell Wilson capped drives of 97 and 80 yards with touchdown passes on Seattle's last two possessions.
Escaping the pocket with regularity, rookie quarterback Russell Wilson threw for 293 yards and added 71 yards on the ground in leading the Seahawks to a 23-17 overtime win over the Bears.
"Over the years we have faced a lot of mobile guys—Michael Vick, Aaron Rodgers, Cam Newton," said defensive end Israel Idonije. "We're built for that. Whether they're handing it off or they're booting, we've got to find a way to make those plays to end the drive.
With the Bears leading 14-10 late in the game, Wilson capped drives of 97 and 80 yards with touchdown passes on Seattle's last two possessions. He hit Golden Tate with a 14-yard score with :24 left in the fourth quarter and Sidney Rice with a 13-yard TD with 7:33 to play in overtime.
"You have to give [Wilson] a lot of credit," said coach Lovie Smith. "He played well. He had a great game. A lot of the success that they had was kind of based on what he did."
On the Seahawks' final two possessions, Wilson completed his final seven pass attempts for 108 yards and rushed for 47 yards on five carries.
"He was able to get out of the pocket and buy some time," said defensive back Kelvin Hayden. "Anytime the quarterback gets out of the pocket, coverage breaks down, and he made the plays. You have to remember, this guy is a rookie. So hats off to him."
Wilson completed 23 of 37 passes and posted a 104.9 passer rating. The third-round draft pick helped the Seahawks convert 8 of 15 third-down opportunities as well as their only fourth-down play, which sustained their touchdown drive late in the fourth quarter.
Smith was asked if the Bears defense was tired late in the game.
"Fatigue plays in when you don't get off on third downs, and then you don't get off on fourth down," he said. "It could be like that always. It could be early in the game if you don't get off on third downs. You're going to see it later on. You've got to be able to reach down—that's what we've done in those situations—and make a play to get off the field."
The Bears sacked Wilson twice in the game, but generated little to no pressure late.
"I can really just speak for myself and the d-line," said defensive tackle Henry Melton. "We let him out [of the pocket] a few times, which we weren't obviously supposed to do. We left the secondary out there to dry. I put that on myself and us up front."
Hayden felt that missed tackles played a key role in the Bears allowing a season-high 459 total yards to an offense that had ranked 27th in the NFL, averaging 316.7 yards per game.
"It was huge," Hayden said. "We look at ourselves as a great tackling team and we missed some tackles today. We understand that those things are going to happen. But they can't keep happening and they just kept happening today."
Smith felt that poor tackling was only part of the problem for a defense that forced its only turnover on the game's opening drive when Brian Urlacher stripped Marshawn Lynch.
"Bad tackling, we couldn't get off blocks, we didn't take the ball away enough," Smith said. "Defensively, we didn't get a lot done."