The most challenging class to translate to the new remote learning set-up might be P.E.
This week, the Bears stepped in to help four Chicago schools deal with this new reality. In partnership with Good Sports, NFL Flag and Nike, the team donated 1,200 physical education kits.
Each kit includes footballs, cones, jump ropes, frisbees and flag belts, allowing students to participate in a broad range of activities. The initiative aims to encourage students to complete 60 minutes of moderate to vigorous physical activity five days a week.
The kits went to three Acero schools (Cruz, Carlos Fuentes Elementary and Octavio Paz Elementary) and the Dulles School for Excellence, which is an Academy for Urban School Leadership School.
"Acero Schools is very grateful to the Chicago Bears and Good Sports for their generous donation of P.E. kits for our scholars at our Cruz, Fuentes and Paz schools," said Juliana Zavala, Athletic Director for Acero Schools. "Acero continues to emphasize the importance of physical education and remains committed to innovating and providing opportunities to our scholars while learning remotely. We are excited to pilot the Bears Fit Youth Challenge at these schools using the P.E. kits and hope to expand the program."
Long-snapper Patrick Scales spoke with students over a video call on Monday, and team mascot Staley delivered the kits to Cruz on Wednesday. Cruz is a K-12 school located in Rogers Park on the North Side.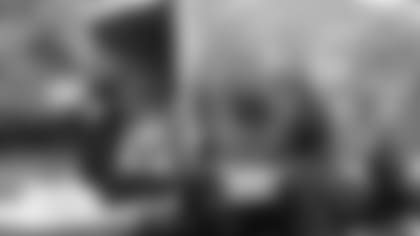 Cruz Principal Molly Robinson believes that physical activity is an important component of education at all levels.
"Research shows that more blood flow to your brain does help your mental acuity and help you learn," said Robinson. "In any class in school, we would want to get that little movement."
Robinson has observed teachers in remote learning do their best to give students a little bit of exercise during the day. She believes that physical education kits will provide a variety of opportunities.
"The teachers across all grade levels are doing a really good job of giving kids physical activities to do in their homes, in their bedrooms, or whatever room they're taking their classes from," said Robinson. "They're jogging in place, or they're doing pushups or planks or high knees in place, things like that, but it's really been limited to what they can do with their own bodies. The bags of supplies that the students received from the Bears, I think, will give them a lot more opportunity to expand on that."