Gameday Staff Recognition | Chicago Bears Official Website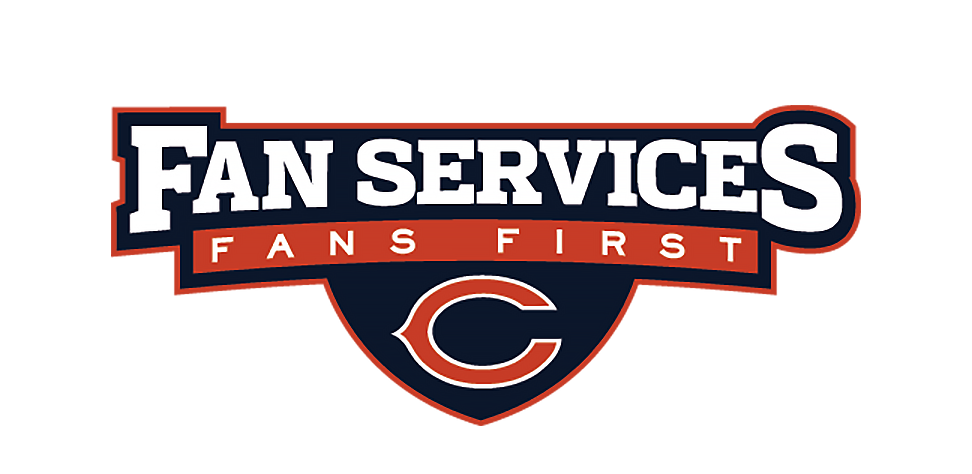 The Chicago Bears would like to recognized gameday staff members who go "above and beyond" their regular duties and responsibilities. These individuals show consistent commitment to their job, co-workers and our fans. To earn the award, the staff member has to be nominated by a supervisor, co-worker or fan. Have a gameday staff member that you would like to nominate? Nominate them below.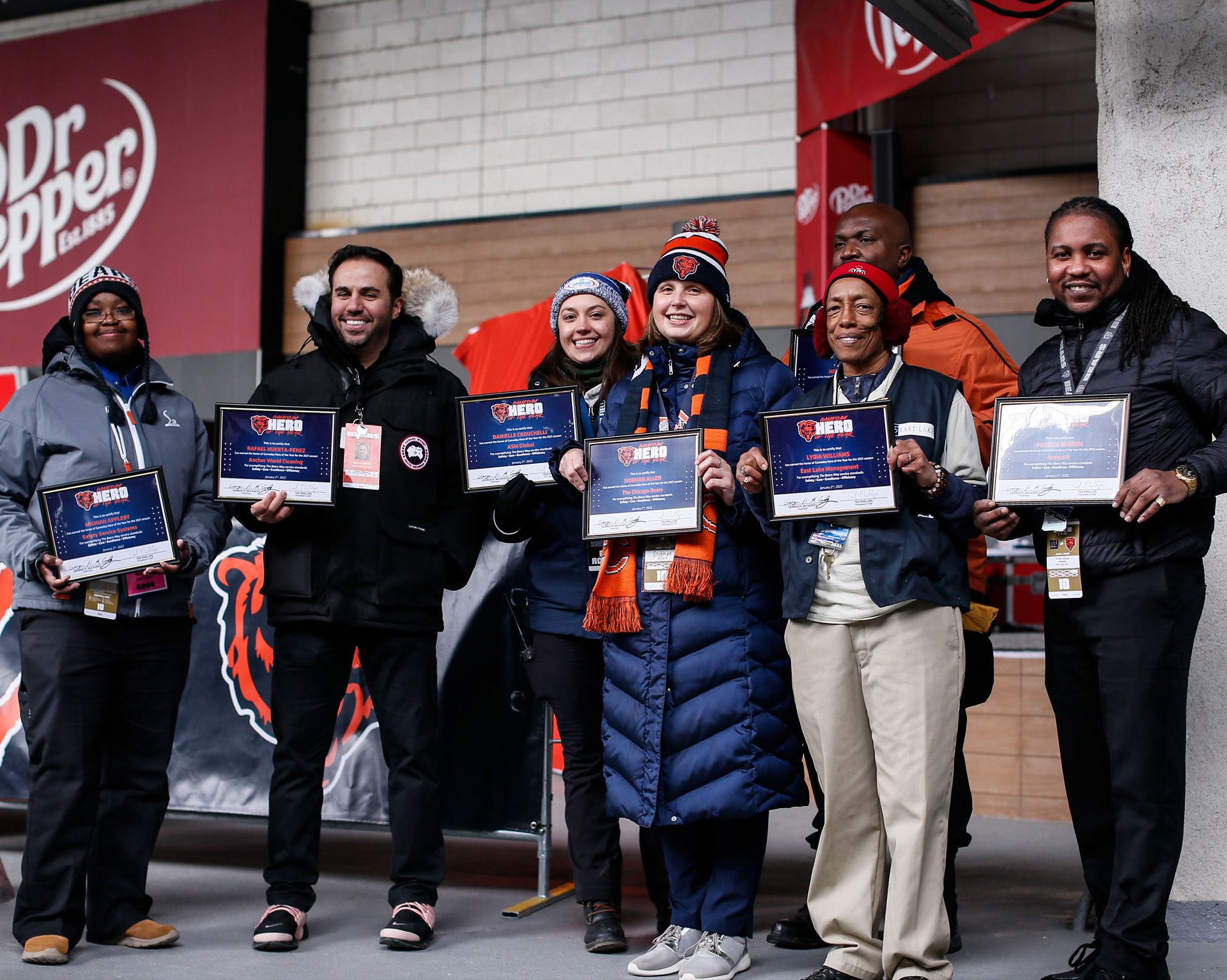 The Chicago Bears recognize the following Gameday Heroes of the Year for their contributions to The Bears Way customer service initiative:
Siobhan Allen, Chicago Bears
Michiah Appleby (Apple-be), Safety Service Systems
Patrick Benson, Aramark
Danielle Crouchelli, ASM Global
Raymundo Hernandez, Standard Parking
Rafael Huerta-Perez, Anchor World Cleaning
Stephanie Roberson (Row-bur-son), Monterrey Security
Mike Simmons, Andy Frain
Lydia Williams, East Lake Management
Rachel Zawaski, ASM Global
Thank you for providing excellent care, safety and service to the best fans in the NFL during the 2021 season.
Gameday Staff Recognition Form
Nominations - 2021 Season
Dolphins - Game 1
Eddy Ruschman (S3)
Crystal Marshall (Monterrey)
Maria Sanchez (Monterrey)
Katrice Bell (Monterrey)
Steve D'Aquila (Bears)
Bills - Game 2
Jakya Bryant (S3)
Tavares Bell (S3)
Scott Lichtfuss (S3)
Yonatan Huipio (S3)
Bengals - Game 3
Mike Cortez (S3)
David Cummings (Bears)
Gavin Elrod (S3)
Ruby French (Bears)
Ashlee Grant (S3)
Giselle Huipio (S3)
Jori Perrin (S3)
Jamaari Ramirez (S3)
Brittany Sheehan (Bears)
Barbara Woodson-Silas (S3)
Lions - Game 4
Brianna Avalos (Bears)
Jamie Binder (S3)
Dominic Calderisi (S3)
Edgar Castillo (S3)
Colette Hankin (Bears)
Jillian Kosiara (Aramark)
Selena LaSure (Bears)
Margo McClintic (Bears)
Mary Nash (Monterrey)
Nabeeha Tabani (S3)
Kailey Terhaar (S3)
Packers - Game 5
Jonathan Ackerson (S3)
Joe Anaya (Aramark)
Sabrina Anderson (S3)
Zachary Annoreno (S3)
Parthenia Barnes (Monterrey)
Jacqueline Brennan (Bears)
Brandon Carr (Aramark)
Robert Clark (S3)
Marco Chavez (Bears)
Ruben Colon (S3)
Mike Cortez (S3)
Frankie Gerlach (S3)
Aniyah Isom (S3)
Adam Jamka (S3)
Yvette Mays (S3)
Nicolette Mercado (S3)
Demetrius Owens (S3)
Savana Ropp(Bears)
Anthony Schalk (Bears)
Debbie Snowden (Bears)
Isaly Soto (S3)
49ers - Game 6
Patrick Benson (Aramark)
Jamie Bilsky (SP+)
Jordan Burks (S3)
David Cummings (Bears)
Adam Currie (S3)
Dean Good (S3)
Isis Hernandez (S3)
Marge Jamka (S3)
Chet Johnson (SP+)
Robert Landing (Bears)
Jennifer Lawrence (SP+)
Alan Leyva (S3)
Lizzy Meidinger (Bears)
Jerome Melendez (SP+)
David Oliva (SP+)
Abby Ostrowski (SP+)
Kately Paulus (S3)
Nico Pena (S3)
Jesse Purdy (SP+)
Alex Riehman (S3)
Daniela Sanchez (SP+)
Nick Stasinopoulos (SP+)
Tonia Triggs(S3)
Patricia Wargowski (Bears)
Ceshia Wilder (Bears)
Ravens - Game 7
Gregory Aiani (S3)
Monk Guerrero (SP+)
Raymundo Herandez (SP+)
Kevin Hoos (Bears)
Luz Lebron (SP+)
Nicolo Maida (SP+)
Antonio Morales (SP+)
Maria Rivera (Aramark)
Deanna Sanders (Bears)
Saman Stefanski (S3)
Cardinals - Game 8
Tavares Bell (S3)
Noah Cinzio (S3)
Cody Dodge (S3)
Cole Fiorenza (S3)
Mary Beth Gerlach (S3)
Ashlee Grant (S3)
Anita Humphrey (S3)
Margaret Jamka (S3)
Luz Lebron (SP+)
Kara McGrath (Bears)
Aimee Morales (S3)
Dessa Plants (Bears)
Jamaari Ramirez (S3)
Ranko Stevanovich (S3)
Benita Wilford (Bears)
Jason Wosik (Bears)
Vikings - Game 9
Jorge Castaneda Jr. (S3)
Juan Cerritos (SP+)
David Cummings (Bears)
Jean Dziedzic (S3)
Charles Granger (S3)
Isis Hernandez (S3)
Lina Hong (S3)
Anita Humphrey (S3)
Margaret Jamka (S3)
Jaylen Jarrett (S3)
Monique McField (S3)
Audrey Montalvo (SP+)
Michelle Parrish (S3)
Miriam Resendez (SP+)
Marc Rosenthal (Bears)
DJ Studniarz (SP+)
Jancy Swimm (S3)
Robert Wozniak (SP+)
Giants - Game 10
Deloris Swain (S3)
Heather Wood (S3)
Anna Gerlach (S3)
Curtis Growth (S3)
Jarrett Harris (S3)
Mya Clark (S3)