Allen Robinson II doesn't only make an impact on the field.
The Bears receiver hosted his first fundraising event in Chicago Monday night for his Within Reach Foundation at the Montgomery Club in River North.
"An Evening Within Reach" raised more than $112,000—including a $20,000 donation from Robinson himself—for his organization's outreach programs. The event featured Robinson and several current and former Bears players mingling with more than 140 guests. Attendees were treated to a lively cocktail reception, steak dinner and a live and silent auction.
During the event, Robinson spoke at length about his foundation and why his mission of providing low income and inner-city Chicago area students with educational opportunities and resources is so important to him. Mentors were a crucial part of Robinson's own academic experience and helped him focus on his education from an early age. Now, as an NFL star, he's using his foundation to be a mentor for those students who need encouragement to embrace their schooling.
"That's something in my life that I lacked, not just about the opportunities but just as far as the influence for me to want to better my education or for me to take it seriously," Robinson said Thursday at Halas Hall. "In some of these inner cities in the public schools, it's kind of frowned upon for kids to take their education seriously, to be the one to want to read in class, to be the one to want to have their homework assignment turned in first."
One of the ways the Within Reach Foundation will fulfill this mission is through the newly-founded "Reach For a Book" program, which will install two state-of-the-art reading rooms in Title I elementary schools and Boys & Girls Clubs in an effort to promote literacy. Through the funds raised Monday, Robinson will be able to launch his first 'Reach For a Book' reading rooms in 2019.
"It's just for kids to have an area to be able to feel comfortable reading and have some space to be able to go read," Robinson said. "Some of the schools don't have an adequate library or any reading space at all. To try to provide them with that I think is pretty cool."
Jarrett Payton, WGN sports reporter and son of NFL legend Walter Payton, served as the event's emcee and used the excitement and energy following the Bears' win Sunday night over the Los Angeles Rams to generate donations throughout the evening.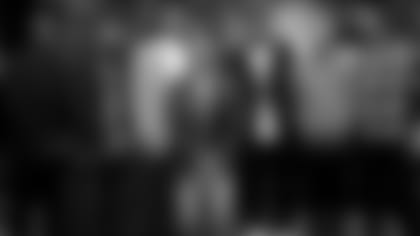 Bears players in attendance included Prince Amukamara, Adrian Amos, Sam Acho, Kyle Fuller, Kevin White and Khalil Mack. Former Bears players Johnny Knox and Israel Idonije were also on hand to support Robinson and his mission.
"An Evening Within Reach" follows Robinson's first community outreach program in Chicago, Operation Elf. Held on December 3, Robinson met 40 students from the Bill & Linda Gantz Boys & Girls Club at the New City Dick's Sporting Goods for a holiday shopping spree. Each child was provided a $150 gift card to shop for presents for themselves and their loved ones.