ChicagoBears.com senior writer Larry Mayer speaks with coach Lovie Smith about the most pressing issues involving the Bears every Wednesday during the season.
LM: How difficult was it to release offensive lineman Chris Williams?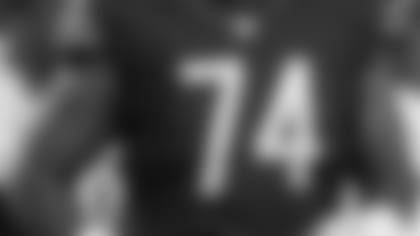 Bears 2008 first-round draft pick Chris Williams was released on Tuesday.
LS: "Chris has been one of our guys for a long time; four years or so. It's always hard when you have to go a different direction from a player that's been with you that long. But even though we've gone in a different direction, this could end up being beneficial for Chris."

LM: What are your thoughts on Tuesday's re-signing of cornerback Zack Bowman?

LS: "Zack did some good things for us before. He chose to go out into free agency, but he was available and we're always trying to improve our ballclub. We feel good about getting him back. [Special teams coordinator] Dave Toub, our secondary coaches and [defensive coordinator] Rod Marinelli all feel comfortable with him. Picking up a player this late in the year who can help you, especially knowing what they can do, is pretty good."

LM: Why did the Bears sign tight end Brody Eldridge earlier in the week?

LS: "We're trying to improve. It's as simple as that. We're not disappointed in the guys we have. We just felt like Brody was a guy who could eventually give us something as a tight end. The question is always asked whether a tight end is more of a pass-catcher or blocker. We think Brody is a combination of both, and he's played in the league for a little bit."

LM: I've been getting a lot of questions from fans about Johnny Knox. Is he continuing to make progress in his recovery from the serious back injury he suffered last season?

LS: "He is making progress. He's getting better every day. He's here every day working out, attending meetings and going through everything with his teammates except for being on the field."

LM: It appears that both receiver Earl Bennett and tight end Evan Rodriguez will be able to return after missing the last two games with injuries. What are your thoughts on getting them back?
LS: "Earl is one of our guys. He's on his second contract with the Bears, so that tells you what we think of him. He can fill a lot of different roles. He's healthy now and we're glad to have him back while Alshon [Jeffery] is out. Same thing with Evan Rodriguez. We were targeting him to come back this date, so he's right on schedule. He was able to do some things Monday and we're excited about getting him back on the field today."