Join us at Olivet Nazarene University in Bourbonnais, IL for the "Illinois. Are You Up For Amazing?" Chicago Bears Training Camp. Fans will have the opportunity to watch the team practice for FREE and enjoy daily entertainment, games, activities, giveaways (while supplies last) and more! Click the links below for more information and be sure to check back for updates.
All fans must sign up in advance to get a FREE ticket for entry.
Countdown
Olivet Nazarene University - Bourbonnais, IL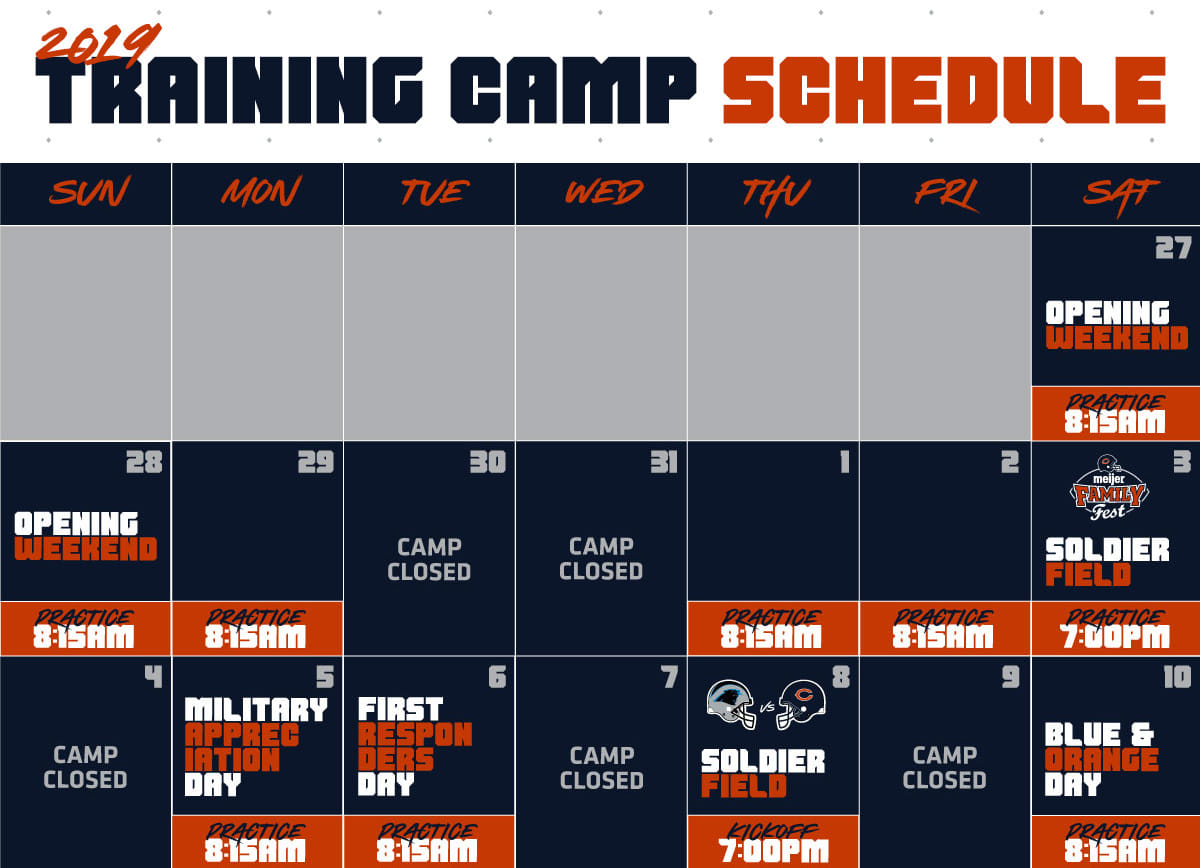 Gate Information
Gates for "Illinois. Are You Up For Amazing?" Chicago Bears Training Camp will open at 7:30am each day.
Please make sure you have registered for your FREE ticket before reaching the gates and you have your FREE ticket ready to be scanned upon entry.
Camp grounds will remain open with fan and kid-friendly activities until 12:00pm each day.
*Gate 2 Fast Pass Entry *– Upgrade to the front of the line and be one of the first to enter camp by presenting your Chicago Bears PNC Visa Debit Card at the Bears Corporate Partners check-in table. Fast Pass entry available on select days. Details: www.pnc.com/bearscard.
Red Zone Autographs*
Make sure to line up at the gates early! 150 specialty passes, which allow entry into the Autograph area** on the tennis courts near Gate 2 post-practice, will be handed out at random as gates open at 7:30am. *Please note that gates and practice times may change due to team scheduling or inclement weather. Dates for the Red Zone Autographs are as listed: Kids between the ages of 4-12: 7/27, 7/28, 8/2, 8/10. Military Members in Uniform: 8/5. First Responders: 8/6.
Front Row Autograph Zone* (Kids Only)
The Front Row Autograph Zone is for a limited number of kids ages 4-12 and takes place daily near the player walkway in the Midway. No more lines! Get your child's wristband for access to the Front Row Autograph Zone at the start of camp.**
*Limited number of wristbands available. Once wristbands are handed out there will be no more. 
Bears Den Social
A daily activation for fans to take pictures and interact with the Bears on different social platforms. Create Your Own Football Cards: 8/1, 8/2. GIF Booth: 8/5, 8/6.
Bears Mini Monsters Clinic*
Bears Mini Monsters Clinic brought to you by Advocate Health Care is an activity area with non-contact football drills that allow kids to show off their athleticism and football skills. The zone is located inside the Camp grounds at the Watson Baseball Field and is open daily for kids ages 6-13. Adult supervision for children is required and a waiver must be signed prior to entering the area.
End Zone*
The End Zone is an interactive area open daily and is located outside of the main Pro Shop between Gates 1 and 2. It offers a variety of entertainment for youth of all ages. Picnic tables are available for those looking to enjoy the music and all this area has to offer. Adult supervision for children is required and a waiver must be signed to participate. Height restrictions apply to certain activities.
The Midway*
The Midway is an interactive area open daily and is located inside of Camp grounds leading to the practice fields. It offers a variety of entertainment for all ages, including food and beverage concessions, the Bear Den Social tent, Community Concierge, Staley's Corner brought to you by Visit Kankakee County, partners displays, and other activities. Adult supervision for children is required and a waiver must be signed to participate in certain activities. Height restrictions also apply to certain activities.
Staley's Corner
Staley's Corner, brought to you by Visit Kankakee County, is open every day and is located just east of the tennis courts. Staley Da Bear, the official mascot of the Chicago Bears, is the all-time funniest, friendliest, fuzziest, funkiest bear in the history of the NFL! Staley's Corner provides fun-filled entertainment for the entire family with a daily photo/autograph opportunity** with Da Bear himself, as well as crafts and games!
Goodwill VIP Autograph Zone**
Head to the Goodwill Store and Donation Center in Bourbonnais to pick up passes for entry into this exclusive autograph zone. This area will open with thirty (30) minutes left in practice. One pass per person is required for entry. Passes are date specific. Limited quantities are available. Visit AmazingGoodwill.com for promotional details. Autographs are not guaranteed. Please click here for the Official Rules.
*Please note that waivers will be required to enter these areas and participate in various activities at "Enjoy Illinois" Chicago Bears Training Camp. Avoid lines and wait times by signing your secure digital waiver in advance through Bears Access. Please refer to the below waiver section for more information on how to sign your digital waiver.
**Autograph and photograph opportunities are not guaranteed.
Tickets
Do I need a ticket to attend training camp?
Yes. Getting tickets in advance is easy and FREE. Click here to sign up online for FREE tickets for July 27, July 28, July 29, August 1, August 2, August 5, August 6 and August 10 practices.
Why are tickets required for training camp?
The Bears began ticketing Training Camp in 2017. Having tickets for Training Camp allows the Bears to better forecast daily attendance to have a positive Training Camp experience for fans.
What does a ticket provide?
Tickets provide admission to camp. All tickets are general admission, there is no assigned seating.
How do I sign up for FREE tickets?
You can get FREE tickets by signing up here on a computer or mobile device.
Is there a limit on how many FREE tickets I can get?
There is no limit.
Do children need a ticket?
Yes, all attendees should have a FREE ticket. Parents/Guardians have the ability to select "child" tickets for children under the age of 18 during the sign up process.
Do I need tickets to attend more than one day of camp?
Yes, tickets are needed for all dates. To sign up for more than one day you will need to complete a separate order for each date you plan to attend.
How are my tickets delivered?
Tickets are delivered via email instantly after signing up. The customer who completes an order will receive all tickets in the order in a single confirmation email. Confirmation emails contain the tickets in the body of the email and attached PDF file. If you aren't able to find your ticket in your email inbox, please check your spam/junk folder. Customers are strongly encouraged to access their tickets on a mobile device for entry. For further details on accessing your tickets, click here.
I ordered tickets for other people, how do I share them with the people attending with me?
Tickets can be transferred electronically via computer or mobile device.
Transfer tickets from a computer:
Click here for instructions.
Transfer tickets from a mobile device:
On the bottom of your confirmation email, under "Need to edit your tickets?" click on the Log In button.
Tap on the menu icon in the upper right (three horizontal lines), then tap on "Your tickets". 
A list of tickets you reserved will appear. Below the ticket(s) you wish to transfer, tap on "More" then tap on "Transfer Ticket" and follow the steps to complete your transfer.
What do I do with my ticket when I arrive at training camp?
Please make sure to have your ticket ready when you arrive. Present your ticket on your mobile device (or printed) to an attendant at any gate. Your ticket will be scanned for entry.
Can I leave printed tickets for another person to pick up?
There is no on site Will Call available. Tickets can be transferred electronically or forwarded by email at any time.
Will re-entry be permitted?
Yes, fans will be allowed to enter and exit as they please. Tickets will be scanned upon all entries.
I need help with my tickets, who should I call?
Call the Bears Ticket Services team at 847-615-2327 (M-T 9:00 am – 5:00 pm, F 9:00 am – 12:00 pm).
Accommodations
Hotel accommodations are available in the Kankakee County area. Click here to find nearby hotels. The Chicago Bears prefer Hilton.
ADA Seating
ADA Seating is available in designated areas around the practice fields. If you or someone you are with needs ADA seating, please go to the ADA entrance at Gate 2 and ask for assistance.
Advocate Children's Hospital Nursing Pod
New this year at Training Camp, we are happy to offer a private area for nursing/breastfeeding mothers – the Advocate Children's Hospital Nursing Pod. The inflatable pod will be located near the First Aid area at Training Camp. Mothers will be able to utilize the inflatable nursing pod throughout the open hours of any public day of Training Camp.
Alcohol
Alcohol is prohibited on the campus of Olivet Nazarene University.
Bears Pro Shop
Bears Pro Shop will be open during all hours of operation throughout "Enjoy Illinois" Chicago Bears Training Camp. It can be found just inside of Gate 1 and next to the End Zone. Make sure to stop by and gear up for the Bears 100th season. The Chicago Bears prefer Visa. An ATM is available outside of the Pro Shop.
Food and Beverages
Food and beverages are available for purchase at concession areas throughout "Enjoy Illinois" Chicago Bears Training Camp. Coolers are allowed. They will be subject to search upon entry. Alcohol and glass is prohibited.
Parking
Parking is available in lots surrounding "Enjoy Illinois" Chicago Bears Training Camp. As you pull into campus, there will be directional signage and personnel on-hand to direct cars to the nearest available parking lots. Parking is available at no cost and lots will open two hours before gates open.
Photos and Videos
Video recording devices (including cell phones as recording devices) and still cameras with lenses more than 12 inches long are prohibited at practice. Fans are welcome to use still photo cameras (with lenses less than 12 inches in length) for your personal enjoyment. Commercial use of any photos taken at practice is prohibited.
Re-admittance
Re-admittance is permitted. Please make sure you have your ticket ready when you re-enter at the gate.
Smoking
Smoking is prohibited on campus.
Strollers
Strollers are allowed.
Tailgating
Tailgating is allowed. Olivet Nazarene University has hot coal drop-off stations located in the parking lots. Alcohol and glass containers are not allowed.
Waivers - "Bears Access"
Waivers will be required for certain activities at "Enjoy Illinois" Chicago Bears Training Camp. To avoid lines and wait times, download The Chicago Bears Official Bears App brought to you by Verizon and sign up for "Bears Access" to get your digital waiver. Parents and guests with children 17 and under will be able to sign waivers for minors. Details on how to sign up will be posted shortly.
Opening Weekend
Kickoff 2019 "Illinois. Are You Up For Amazing?" Chicago Bears Training Camp with opening weekend as the Bears take the field in Bourbonnais. Enjoy music, games, giveaways, appearances by the Bears Drumline and Monster Squad, kids autograph opportunities and more. Use #BearsCamp to join the conversation and share your experience! Opening weekend takes place on July 27-28.
Military Appreciation
On Monday, August 5, join us in support of the dedicated men and women who have served or are currently serving our nation in the U.S. Armed Forces.
First Responders Appreciation
In celebration of our honorable first responders, the Chicago Bears welcome police, fire, medical and emergency service men and women to join us at "Enjoy Illinois" Chicago Bears Training Camp on Tuesday, August 6.
Blue and Orange Day
Blue and Orange Day takes place on August 10. Show your Bears pride.
WELLNESS TIPS FROM ADVOCATE HEALTH CARE: At Camp, it's not just the players bringing heat. The sun and high temperatures can get in the way of you enjoying your day. To stay cool, keep these essential tips in mind:
Drink water before you're thirsty. Notable signs of dehydration include excess thirst, dark-colored urine and feeling dizzy, tired or woozy.
Protect yourself against the sun. Apply sunscreen with at least SPF 30, and wear a baseball or wide-brim cap, sunglasses and light-colored clothing to help stay cool.
Recognize the signs of heat-related illnesses. Seek assistance if you experience heat cramps, excessive body temperature, nausea, confusion or trouble breathing.
Find more health and wellness tips at Advocate's health enews.