As part of the $1,920,000 commitment to local COVID-19 relief efforts by the Chicago Bears and Bears Care, the organizations are providing $160,000 in total donations and matching grants to the Chicago Police Memorial Foundation, GENYOUth, I Grow Chicago, Meals on Wheels Chicago and The Salvation Army Metropolitan Division.
Additionally, the NFL's Draft-A-Thon raised $50,000 each for Meals on Wheels Chicago and The Salvation Army Metropolitan Division. The NFL Draft-A-Thon was the league's fundraiser around the 2020 NFL Draft that raised funds for COVID-19 relief efforts for nonprofit organizations, including Meals on Wheels and The Salvation Army. Donations are still being accepted at NFL.com/relief.
Previously, the Bears and Bears Care announced $1 million in donations as part of the $1,920,000 commitment, with the Advocate Charitable Foundation's Relief Fund for Critical Care, Chicago Community COVID-19 Response Fund, Illinois COVID-19 Response Fund and University of Chicago's Community Support Programs each receiving $250,000.
Chicago Police Memorial Foundation will receive $25,000 for support of the Foundation's COVID-19 relief efforts from Bears Care in memory of officers who lost their lives to COVID-19. A portion of the funds were used to provide over 200 gallons of hand sanitizer to officers in the Department's 22 districts.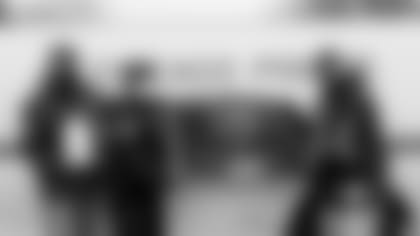 GENYOUth will receive a $25,000 donation from the Bears. GENYOUth, a national nonprofit organization dedicated to creating healthier school communities in partnership with Fuel up To Play 60 and Midwest Dairy, recently established the COVID-19 Emergency School Nutrition Fund to assist schools nationwide as they strive to provide school meals containing essential nutrition to students during the pandemic. The Bears' donation will be directed to schools within Illinois and aim to provide resources such as soft-sided coolers, bags and containers for individual servings and protective gear for food service sanitation and safety. Schools can apply online at covid-19.genyouthnow.org/ to receive a grant of up to $3,000 per school feeding site.
I Grow Chicago will receive $10,000 from Bears Care for relief efforts in their Englewood community. Of the approximately 3,000 people I Grow Chicago serves, 62 percent don't have reliable access to internet, 59 percent are food insecure and 41 percent don't have health insurance. Through their relief efforts so far, I Grow Chicago has delivered more than 9,000 prepared meals and 12,600 staple food items, provided 120-plus hours of remote children's tutoring and made nearly 2,000 wellness check-ins.
Meals on Wheels Chicago will receive a $50,000 matching grant from Bears Care and $50,000 in donations through funds raised during the NFL's Draft-A-Thon. Over the last eight weeks, Meals on Wheels Chicago has added more than 3,000 seniors to the program and are now serving more than 10,000 clients each week. Through their private-public partnership with the City of Chicago and Open Kitchens, they serve millions of meals each year.
The Salvation Army Metropolitan Division will receive a $50,000 matching grant from Bears Care and $50,000 in donations through funds raised during the NFL's Draft-A-Thon. Throughout the Greater Chicagoland area (including northwest Indiana), The Salvation Army is on the front lines helping individuals face the challenges of the coronavirus pandemic through mass care, emergency meal box deliveries, food pantries, food and beverages for frontline government support workers, an emotional and spiritual care hotline, emergency assistance with rent and utilities for those facing lost wages or employment, and much more. So far, they have distributed nearly 330,000 meals and more than 225,000 snacks/drinks, and provided emotional and spiritual support to more than 11,000 people throughout their division.
The Chicago Bears have a longstanding tradition of supporting numerous charities and assisting those in need. Bears Care was incorporated in 2005 as a 501 © 3 organization committed to improving the quality of life for people in the Chicagoland community, especially disadvantaged children and their families, through targeted programs supporting education, youth athletics and medical research and health awareness programs focusing on breast and ovarian cancer. Since that time, Bears Care has issued grants totaling more than $21.5 million to over 100 qualifying agencies. For more information, please visit www.chicagobears.com/community/bears-care.
About Chicago Police Memorial Foundation
The Chicago Police Memorial Foundation is a not-for-profit organization dedicated to honoring the lives of our fallen heroes. The Foundation provides support and assistance to the families of Chicago police officers who are killed or catastrophically injured in the line of duty. For more information, please visit www.cpdmemorial.org/.
GENYOUth is a 501c3 nonprofit organization that empowers students to create a healthier future for themselves and their peers by convening a network of private and public partners to raise funds for youth wellness initiatives that create healthier school communities. They believe that all students are change-agents who deserve the opportunity to identify and lead innovative solutions that positively impact nutrition, physical activity, and student success. GENYOUth's flagship program, Fuel Up to Play 60, enrolls over 73,000 U.S. schools, reaching over 38 million students in nearly 10 years of operation. For more information, please visit www.genyouthnow.org.
In 2014, I Grow Chicago opened the Peace House, a previously abandoned home in West Englewood that they transformed into a community gathering space. They are creating a culture of hope in Englewood, where a community is ready to make a difference for themselves, their neighbors, and their children. I Grow Chicago engages and employs residents to build their vision of their community and collaboratively work together to lead in five service areas: mentorship and skill building, restorative justice and community building, yoga and mindfulness, creative expression and sustainability and urban farming. They assist more than 3,000 individuals per year. For more information, please visit www.igrowchicago.org/.
About Meals on Wheels Chicago
Meals on Wheels Chicago (MOWC) envisions a community in which all basic needs are met and barriers to achieving independence are eliminated. Their goal is to ensure that seniors and individuals with disabilities benefit from nutritious meal programs that improve their quality of life. MOWC raises private funds to support in-home meal delivery for these vulnerable populations through corporate and community partnerships, individual giving, and special events. These efforts help Chicago's homebound neighbors maintain independent, self-sufficient, dignified lives in the comfort and familiarity of their own homes. For more information, please visit www.mealsonwheelschicago.org.
About The Salvation Army Metropolitan Division
The Salvation Army is a nonprofit organization made up of thousands of officers, soldiers, adherents, employees, volunteers and other individuals all working together to holistically meet the spiritual, emotional and physical needs of those less fortunate. The Salvation Army Metropolitan Division is the administrative unit which provides services to people in need in Greater Chicago, Northern Illinois and Northwestern Indiana. For more information, please visit centralusa.salvationarmy.org/metro/.