The Bears conducted a free safety clinic for about 100 mothers of Chicago-area youth football players Tuesday night in the Walter Payton Center at Halas Hall.
The interactive and educational forum gave the moms a chance to learn about health and safety, including facts on concussion awareness, heat and hydration, and Heads Up Tackling techniques.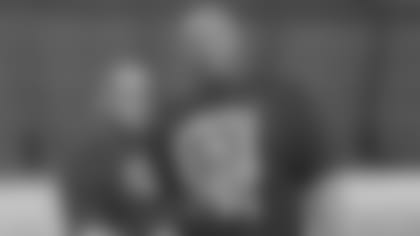 Mike Singletary and James "Big Cat" Williams were among the former Bears at Tuesday's clinic.
Special guests included Bears owner Virginia McCaskey, chairman George H. McCaskey, Hall of Famer Mike Singletary, and former players Desmond Clark, Rashied Davis, Mike Richardson and James "Big Cat" Williams.
"I remember my mom not wanting me to play the game of football and how I had to assure her that I would do all the things that I needed to do in order to play safe," said Singletary, a star Bears middle linebacker from 1981-92. "So I can certainly empathize with [the moms].
"Everything is about technique and the fundamentals of the game. If kids can grab those things early on and really practice those things and work on those things, it makes it that much better as they go through middle school and high school."
The culture of concussion awareness in the NFL is much different today than it was when Singletary played.
"It's amazing what more information and knowledge can do," said Singletary, a 10-time Pro Bowler and two-time NFL defensive player of the year. "I'm thankful that there is more of an awareness of concussions and the repercussions and how you really have to know what the symptoms are and not just you as a player but the doctors as well. It makes a tremendous difference."
Other special guests at Tuesday night's clinic included Bears physician Dr. Adam Bennett, neuropsychologist and concussion specialist Dr. Elizabeth Pieroth and Diane Long, wife of Hall of Famer Howie Long and mother of Bears guard Kyle Long and Rams defensive end Chris Long.
"I have a lot of experience with my children and my husband playing football," Diane said. "Not everybody has that 30-plus years of experience. But knowledge is power and if it took me 30-something years to get there and somebody else can get there in an hour and a half, let's just do it.
"By getting all these moms together tonight in a situation where it is all women, where we can feel free to exchange ideas and ask questions, I think it's the perfect learning environment to empower women so they can be confident in the questions they ask and the things they look for in their youth leagues and high schools leagues."