On Saturday, April 9th, the Chicago Bears hosted the NFL High School Coaches Forum in the PNC Center at Halas Hall. The forum is designed to educate and enhance high school coaches through several presentations related to coaching football and developing student-athletes.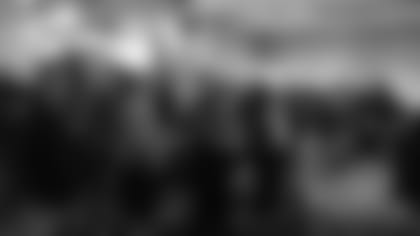 Guest speakers led coaches through breakout sessions and presentations that covered topics such as conduct, sportsmanship, safety, and coaching philosophy. This was the Bears first time hosting the free forum and over 70 high school coaches from the Chicagoland area were in attendance.
Some of the forum's guest speakers included Anthony Stone, USA Football master trainer, Matt Reamer, NFL High School Player Development and keynote speaker and former University of Minnesota head football coach Jerry Kill.
New Chicago Bears wide receiver coach Curtis Johnson participated in the forum as well, teaching coaches how to deal with social issues while sharing some personal insight from his experiences.
"The best piece of advice I can give is to get good people - people who love kids," Johnson said. "I would do an interview and I wouldn't even ask much about football because you can teach football to a coach. But a coach who loves the kids and who wants to do right by the kids, I think those are guys you definitely need to hire."
Chris Schremp, head football coach at Prairie Ridge High School in Crystal Lake, IL, found this forum to be different than others he had previously attended. "I have been going to coaches clinics for over 20 years and this forum presented some unique topics that I have not seen presented at other high school clinics."
Schremp said that he left the forum with new ideas and best practices that he is excited to share with his team. "The Growing Leaders presentation taught me some new techniques I can implement in order to teach our players to communicate well with our staff and each other."