FOX NFL reporter Laura Okmin has been conducting "boot camps" for women who work in the media on and off camera or aspire to enter the field for a decade. But the virtual session she coordinated this week with the Bears was extra special to her.
Okmin was an avid Bears fan while growing up in the Chicago area in Northbrook and Lincoln Park and continues to maintain an allegiance to her favorite childhood team.
"It was amazing," Okmin said. "It means the world to me [with] every single team I do this with, but there's a little different level of wonderfulness knowing that it's the team I grew up loving."
The Glenbrook North graduate experiences similar emotions when she works games at Soldier Field as a sideline reporter.
"I still feel like I'm 12 every Bears game I do," she said. "The moment's never lost on me. To stand there at Soldier Field on the field, the privilege never leaves me. I always feel like a little girl every time I'm around the Bears. Like everybody else [who grows up in Chicago], I was a huge Bears fan. So the girl in me very much is aware of it every single time that I partner with the Bears professionally as a reporter."
Okmin orchestrates the two-day boot camps via GALvanize, an organization she created in 2011 to empower women in the media. This year she has five boot camps planned with NFL clubs. Typically, about 20 women meet for workshops on Day 1 and then partner with a team's entire rookie class on Day 2. The women are assigned a player to interview one-on-one. They're given the name of the rookie in advance so they have time to prepare.
Okmin revealed that this week's session with the Bears rookies was an overwhelming success.
"It was wonderful," she said. "Some [women] had done 10 boot camps, some had done six or seven, and almost every one of them texted me later and said of all the boot camps, this one might have been their favorite.
"That's crazy for them to say because it was virtual. But it's because the Bears rookies took it so seriously and they were such pros and they got so into it. It made such a difference for the women who were their partners in it, so it was pretty awesome."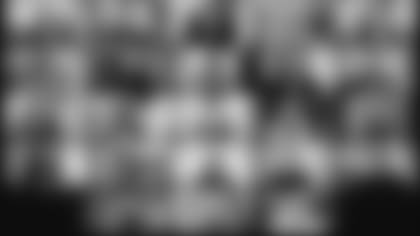 The women are instructed to ask the players not about football but about who they are as people; Okmin instructs the women not to include anything that can be found on Google. The women then present a one-minute report on the rookie, often divulging information that even their teammates didn't know.
"You've got to come with honesty and vulnerability and trust," Okmin said. "We had some amazing conversations and 20 stories and every single one of them was incredible."
The Bears rookies benefited from the boot camp just as much as the women they were paired with.
"I thought it was really good for them," said Bears player engagement coordinator Erika Marmolejo, "being able to practice their media skills for this upcoming season and the rest of their NFL careers."
"It was an opportunity for them to be vulnerable, and the way Laura presented the program was awesome. It was a chance for the guys to open up and share a part of their stories outside of football; it was something that was unique to each and every one of those guys. They were able to come back together after they met with their reporter and hear bits and pieces of each other's stories, so I thought that was really cool for them."
Helping both the aspiring women and the NFL rookies simultaneously has always been Okmin's ultimate goal.
"It was I thought just a wonderful way to just put all these young men and young women together and let them realize how much they can help each other," Okmin said. "Instead of feeling that they were adversaries right out of the block, I wanted to teach them empathy for each other and help them help each other."