The Bears offense accomplished one key objective in last Friday night's win over the Giants and will look to achieve another in Thursday night's preseason finale in Cleveland.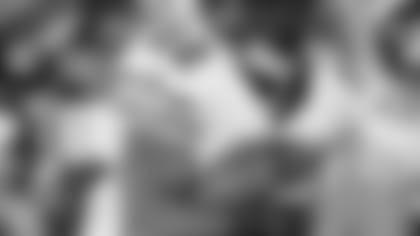 Matt Forte rushed for 39 yards on 10 carries last Friday night against the Giants.
After allowing 10 sacks in their first two preseason games, the Bears yielded only one to the vaunted Giants defense. But the run blocking wasn't as solid as the pass protection as Matt Forte and Michael Bush combined to rush for just six yards on nine carries in the first half.
"In the game we were pleased with the progress we're making in our [pass] protection," said offensive coordinator Mike Tice. We definitely made a lot of strides since the last two times we were in New York and we've made a lot of strides this preseason in our protection."
"Of course, that was a focus. Where we need to continue to hone it up and get our timing down and figure out what we're going to be, and we will, is in the run game. We need to decide on what runs we want to really focus on this next week and get after those and clean up those and move forward and make some strides in our run game."
The only sack the Bears allowed against the Giants came late in the fourth quarter when third-string quarterback Josh McCown was in the contest. Starter Jay Cutler and backup Jason Campbell combined to throw 40 passes without getting sacked.
"I didn't see a ton of pressure," Tice said. "We were edgy a few times, but nothing that makes you start to worry about where we're at right now. Protection-wise, we're moving along right where we need to be."
The focus this week turns to improving a stagnant running game that has generated just 212 yards and averaged 3.0 yards per carry in three preseason games.
"I'm not really worried about it," Tice said. "We'll run the ball fine. We just have to pay more attention to it in our individual work. We've focused so much on making sure that we're able to protect our quarterbacks that we've taken some of that time that we usually work on in those individual periods and focused on the protection stuff.
"We just have to in these next 10 days or whatever spend more time honing up some of those things. We actually had some mental errors in the run game that were easy things. When you call a play that's called an inside zone that means you're really not working to a man, you're working to a zone."
"We just have to make sure that we clean that up and make sure we're all on the same page and all working toward the proper area. We'll be OK there." [ Tice said that the competition between J'Marcus Webb and Chris Williams for the left tackle position has not yet been decided. The veteran coach was pleased with how both players protected the quarterback, saying: "They both took a big jump forward and are trying to make it hard on us to make our decision, which is good."
A winner could be declared this week.
"We'll talk about it in the next couple days," Tice said. "We've gained more knowledge of where we're at. We played against a good front. They were missing one or two guys, but they're so deep. They don't do much; they just come after you and challenge you man-on-man. So it was a really good test for us, and I think the guys withstood that test."