When Kyle Long was selected by the Bears in the first round of the 2013 draft, he arrived in Chicago with a grand total of five starts at the Division I college level.
Two years and two Pro Bowls later, the 6-6, 328-pounder from Oregon continues to approach practice the same way he did as an unseasoned rookie.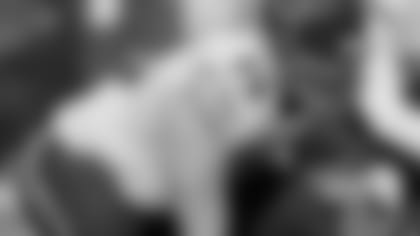 Two-time Pro Bowler Kyle Long
"It's still the same thing," said Long, the 20th overall pick in the 2013 draft. "You want to come out every day and compete and try to improve your game."
That's exactly what transpired during Tuesday's practice at Halas Hall.
"I learned something today," Long said. "[Defensive lineman] Will Sutton was inside of me and I stepped too far down. We talked about it after the play. That's one thing I learned today—I eliminated a way to get beat. You've got to keep going out every day and try to help the team out and try to better yourself to be able to help the team."
Already the first Bears offensive lineman to be voted to the Pro Bowl in his first two NFL seasons, Long has the potential to become one of the franchise's all-time greats. Not too long ago, however, he also had the potential to become a major league pitcher after being drafted by the Chicago White Sox. But off-the-field issues ended his baseball career.
As a result, Long prefers to concentrate on the present rather than the future.
"I hate the word potential," he said. "When we go in here after lunch and we look at this film, that's really what I'm concerned with—what you put on tape.
"I had a terrible showing last week against the Bengals. It was uncharacteristic of me. I couldn't get going. I think I'm speaking for a lot of us when I say that. But we're on to the Browns and I'm excited to see these guys get after it on Thursday. We're out here competing every day and it's a great feeling to be part of a team and have guys competing for spots."
When Long does peer down the road, it's only as far as the next game.
"If you look in the rearview mirror too long, you're going to run into something in front of you and if you look too far down the road, you'll run into something in front of you," Long said. "So I try to focus on the next little dotted yellow line on the road and take it one at a time.
"You've got to have tunnel vision. You put one foot in front of the other and hopefully you get better every day. That's why we come in here and work and that's why we have all these things in place to be able to get better as an individual in order to help the team."
While it remains possible that Long could help the Bears by moving from right guard to right tackle, he insists that he would play any position on the field.
"I don't really have a preference," Long said. "I'd like to help the team wherever that is. I'm really sincere when I say that. If they ask me to play receiver, I'd be out there running routes right now practicing. It's football. It's not that complicated.
"Any time they put me out there, I'm trying my best to be able to focus in on my technique, to get my assignment and alignment correct. It's all about playing football, really, at the end of the day. I move two feet if I'm going to move."
The difference between the two positions is probably a little more complicated than that.
"At guard, things happen a lot quicker," Long said. "At the snap of the ball, you're either beat or you've won right now. At tackle, you can see your death either happen really slowly or you can see success happen really slowly. There's a lot more space out there. But honestly, you're just trying to keep somebody away from Jay Cutler. At the end of the day, that's the assignment."