After recording only 6.5 sacks in his first two seasons with the Bears, 2012 first-round draft pick Shea McClellin may be moving from defensive end to linebacker in 2014.
"Shea is capable of more and it's our job and our responsibility as coaches to get that out of him, and we're going to do everything we can to do that," said coach Marc Trestman. "We'll look hard at Shea doing other things besides being lined up at defensive end. If that means moving him to a linebacker position as we move forward, that will be under consideration as well."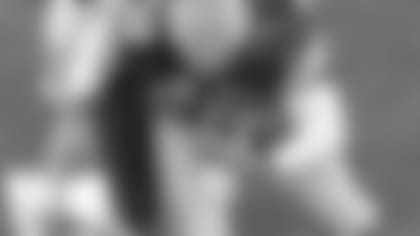 Shea McClellin's sack of Aaron Rodgers Nov. 4 at Lambeau Field sidelined the Packers quarterback for seven weeks.
After mustering only seven tackles and 2.5 sacks in 14 games as a rookie, McClellin recorded 28 tackles and four sacks while appearing in 14 contests with 10 starts this season.

McClellin registered three of his four sacks in a Week 9 win over the Packers, knocking quarterback Aaron Rodgers out of action for seven weeks with a broken collarbone and earning NFC defensive player of the week honors. But that game was more the exception than the rule.

"When we needed a pass-rusher to step up, Shea contributed greatly in terms of our overall production," said general manager Phil Emery. "No matter how we shake out the stats as far as the importance of the person on the field to our pass rush, Shea was No. 1. But he did not have enough impact plays. Sacks are king and Shea did not have enough of those.

"What we have to do with Shea is find ways to use the unique talents and skills of the players that we have. Putting him at defensive end, that's on me, not giving him the ultimate opportunity to succeed. He produced in a positive way, but the overall impact of the last two seasons has not been at a high enough level."

When the Bears selected McClellin with the 19th pick in the 2012 draft, they envisioned utilizing him as part of the rotation at defensive end as a pass rush specialist.

"The whole idea and thought behind Shea is the high-end athleticism he has and his speed to handle the quarterbacks that we face and the mobility that they have," Emery said. "The role models were some of the players that Lovie [Smith] had had in the past in terms of being somebody that comes in during nickel downs, primarily, and then goes anywhere from the high 40 percent to about 60-62 percent is the effective range of a player that has the skill set that you're looking for."

"Shea was brought in to help us disrupt the passer. We were a better pass-rushing unit a year ago when he was in the game than when he was out of the game. That is again true this year. Where he hasn't had an impact is sacks. Sacks are kind in terms of sacks against you and sacks that you make. They're a huge part of the overall win formula. We have a win formula that has six aspects of it. Sacks are a big part of three of it, and they have a big determination on whether you win or lose from a statistical aspect."

In finishing with an 8-8 record in 2013, the Bears defense tied for last in the NFL with 31 sacks.

In terms of versatility and traits, Emery compares McClellin to the Patriots' Rob Ninkovich, the Jaguars' Jason Babin and the Bills' Jerry Hughes. All three players have developed into productive pass rushers after failing to do so with the teams that drafted them.

Ninkovich recorded just one sack in his first four seasons with the Saints and Dolphins but has had eight in each of the past two years with the Patriots. Babin never registered more than five sacks in his first six seasons with the Texans, Chiefs, Seahawks and Eagles before amassing 12.5 with the Titans in 2010 and 18 with the Eagles in 2011. Hughes had five sacks in three seasons with the Colts before compiling 10 this year with the Bills.

"The most amazing thing in studying those players is they all have the same general size as Shea, speed, fast athletes, very quick athletes, athletes with versatility," Emery said.

"All three of those guys did not produce right away for their initial team. What I want for Shea is for it not to take that long, for us to find that role, not for the New England Patriots or the Buffalo Bills or the Jacksonville Jaguars or the Eagles to find those roles, but for us. All of those players have a similar skill set. We need to find a better role fit so that he can be productive as a run-down player and productive as a pass rusher."