During an appearance Monday on WSCR 670-AM, general manager Ryan Pace discussed how the Bears have executed their plan to fix the quarterback position this offseason, most recently trading up to draft Mitch Trubisky.
The Bears moved up one spot in the first round to No. 2 by dealing third- and fourth-round picks in this year's draft and a third-rounder in 2018 to the 49ers. Although they have been criticized by some, the Bears actually got the better of the trade according to a chart used by NFL teams that assigns a point value to every pick in the draft.
"When you've identified—especially at quarterback—a guy you believe is that caliber of player and you're within reach to get that player, you've got to do what's necessary to get him," Pace said on the "Bernstein and Goff Show." "Whether that's one pick or 20 picks, I think you've got to make the move to do that.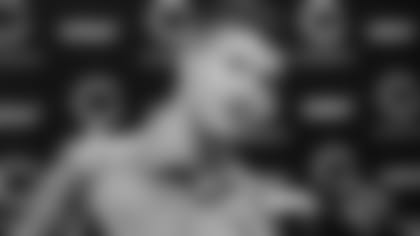 Bears general manager Ryan Pace has added Mike Glennon, Mark Sanchez and rookie Mitch Trubisky to the team's quarterback room.


"You've got to be aggressive and my fear was you could feel teams coming up to our pick, interested in our pick. And you're thinking to yourself, 'if they're interested in three, they're definitely interested in two.' When you're that close and you have conviction on a guy, I think at that moment you've got to be aggressive.
"How often are you going to be picking this high in the draft, and to have conviction on a quarterback, you've got to do it. You've seen too many times if you don't do it and all of a sudden some team trades up in front of you and takes the player, you're going to regret that for a long time. So I thought with a quarterback and how we all felt, let's make sure we get our guy."
Two other teams also moved up in the first round to draft a quarterback, and both surrendered their first-round picks in next year's draft—the Chiefs traded up to No. 10 to take Patrick Mahomes and the Texans followed by dealing up to select Deshaun Watson at No. 12.
The last time a team traded up from No. 3 to No. 2 to draft a quarterback was in 1998 when the Chargers moved up several weeks before the draft, assuring themselves of either Peyton Manning or Ryan Leaf, the consensus top two players. (The Colts chose Manning and the Chargers followed by taking Leaf.) The deal cost San Diego its 1998 second-round selection, 1999 first-round pick, three-time Pro Bowl return specialist Eric Metcalf and linebacker Patrick Sapp.
Pace made no secret of his intention to upgrade the Bears quarterback position this offseason. He was around a franchise quarterback for several years with the Saints in Drew Brees and is now in his third year with an organization that has sent a quarterback to the Pro Bowl just once in the last 53 seasons—Jim McMahon in 1985.
Pace signed veteran Mike Glennon in free agency and then selected Trubisky with the Bears' highest pick in the draft since 1951 when they took Notre Dame quarterback Bob Williams at No. 2.
"You're never going to be great in this league until you have that position right," Pace said. "So we kind of went into this offseason with a commitment to fix the quarterback position. It started with Mike Glennon and then when I realized that, 'hey, we're in a position to get a quarterback that we all really like in the draft,' let's take advantage of it.
"It's just good to look at the depth chart now and look at that room and look at that position and feel good about where we're going and the state of the franchise because it's such a critical spot."
The Bears initially plan to groom Trubisky behind Glennon.
"Mike knows he's our starting quarterback," Pace said. "We've put ourselves in a really good position where I feel good about Mike Glennon. I've liked him for a long time. We've liked him for a long time. He's going to win games for us. But, hey, we've also got Mitch Trubisky in the mix and obviously you know how we feel about him.
"With the importance of that position, having too many good players at that position is not a bad thing. Look at the history of the franchise. It's something that we've got to get right. We made a commitment to get it right. We made a bold move to get it right and I feel good about it."