ENGLEWOOD, Colo. – For the second straight day, quarterback Mitchell Trubisky and the Bears offense performed well in a joint practice with the Denver Broncos.
"I think our offense took a step forward these past few days," Trubisky said following Thursday's workout at the Broncos training facility in Englewood, Colo. "It was good to come out here, compete, see a bunch of different looks and just get after it on offense. Hopefully it carries over into the preseason game."
The Bears will conduct a walkthrough practice Friday before facing the Broncos in a preseason game at 8 p.m. (CT) Saturday at Broncos Stadium at Mile High.
On Thursday, Trubisky displayed accuracy, mobility and poise for the second straight practice against a Broncos defense that's led by outside linebacker Von Miller. The second-year pro's best throws resulted in touchdown passes to tight end Trey Burton and receiver Allen Robinson II.
Asked about Trubisky's performance, coach Matt Nagy said: "It wasn't one good day, one bad day. It was two good days. That's what his expectations are. That's what he knows that we want. He's done that and we're not going to stop him."
Offensively, Nagy was most impressed with the precision he saw from Bears pass-catchers while running their routes.
"When you start seeing different coverages and different defenses, you start to see how our guys react to those specific routes," Nagy said. "They got better. They definitely got better. And same with our defense. Our defense is always seeing the same plays from us in training camp and I thought they reacted well. All we can do is just continue to keep growing with that."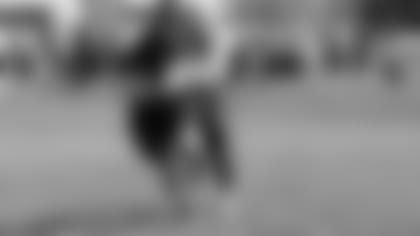 Bears tight ends delivered a strong performance for the second straight day, with Burton, Adam Shaheen and Ben Braunecker all making nice catches in 7-on-7 and 11-on-11 drills.
"I was happy with their performance," Nagy said. "They're doing a good job right now of matching up their timing with 10 (Trubisky). We didn't do any live [tackling] the last two days, so it's hard to tell exactly where they'd be in their blocking assignments, but we're trying to really focus in on that, too."
"We have an awesome tight end room," Trubisky said. "They create mismatch problems for the defense, and we're going to try to continue to utilize that all year long. If they continue to run routes, if they understand the offense and spacing, then they'll continue to get the ball. They've done a great job of separating. When we get a linebacker or safety on them, we feel like it's a mismatch for this offense. We've just got to continue to take advantage."
Practicing regularly with new teammates such as Burton and Robinson, it's evident that Trubisky has developed a rapport with two of his top targets.
"I'm really surprised how far we've come along with the timing in such a short amount of time, just knowing these guys," Trubisky said. "But I think it just speaks to the type of guys they are, their knowledge of the game and their work ethic, as well as mine. We've just been getting on the same page, repping over and over again and really developing that trust and chemistry on and off the field."