Bears rookie quarterback Mitch Trubisky has steadily improved throughout training camp, but the second overall pick in the draft remains a work in progress.
"The biggest area has been just understanding the offense, understanding what defenses look like, to start to be able to read coverages," said offensive coordinator Dowell Loggains. "It's a lot for a guy who has never taken a snap in pads under center."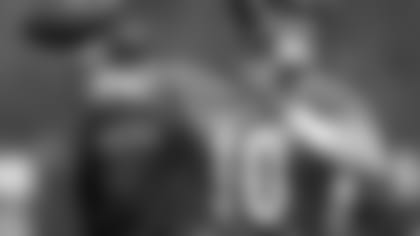 Bears rookie quarterback Mitch Trubisky has been focusing on pre-snap reads in practice.


Trubisky, who worked primarily out of the shotgun at North Carolina, is gaining valuable experience in camp against coordinator Vic Fangio's defense.
"Coach Fangio does a great job and runs more coverages than anyone in the NFL," Loggains said. "So to see [Trubisky] get exposure to all that and be able to get as many reps as he's gotten has been tremendous."
The Bears traded up one spot in the draft to select Trubisky at No. 2, the franchise's highest pick since 1951 when Notre Dame quarterback Bob Williams was also chosen second. Last year Trubisky set North Carolina passing records in his only season as a starter with 447 attempts, 304 completions, 3,748 yards and 30 touchdowns.
At North Carolina, Trubisky lined up and called protections based on signals from the sideline. With the Bears, protections are called in the huddle and can be changed at the line of scrimmage. Those pre-snap progressions may be the biggest adjustment the Bears' quarterback of the future faces as a rookie.
Loggains discussed other key topics while speaking to the media Friday for the first time since the Bears reported to training camp July 26.
On starting quarterback Mike Glennon's comfort level:
"Just being able to go through OTAs and go through the offseason and then having four or five weeks to study on his own. He organized a trip to Florida and that was a great experience for the guys. You feel a difference in the chemistry and those guys being able to communicate with each other. They got to know each other's personalities. I think Mike is more comfortable now speaking to those guys."
On that chemistry paying dividends on the field:
"I think Mike has an understanding of where a receiver is supposed to be, when he's going to get there, because each guy is different. We talked earlier about developing chemistry. Some of that comes from learning what your guy does well and what his strengths are."
On progress of offense in general:
"We've been pleased to this point with all three quarterbacks. [Receiver] Cam Meredith has become a much better practice player and has a good feel for the offense. Each guy has grown a little bit with the tight ends, the new guys. We do have a lot of new guys. Last year our offensive captains were Jay Cutler and Alshon Jeffery. They're gone. So there's an opportunity for a lot of the young guys to step up and we're excited about those guys."
On rookie tight end Adam Shaheen:
"I'm really pleased with him so far with what he's done, especially in the passing game. Coming from a smaller school we knew that the biggest adjustment would be in the run blocking and pass protection. He's done a nice job to this point."
On the impact of veteran receivers Victor Cruz, Kendall Wright and Markus Wheaton, all of whom were signed as free agents:
"The No. 1 thing that has shown up is that this group is starting to hold each other accountable. They get on each other. Victor, Kendall and Wheaton, they've done it at high levels and had a lot of production. They do help Kevin [White]. They do help Cam and the quarterbacks. They have difference experience they bring to the room which was a really young room."
On Wright, who played for Loggains with the Titans:
"He has football savvy. When you look at him—and he won't mind me saying this—he's not fast. He has unbelievable lean. He just has a great feel to run twist routes and option routes and be able to get open and sit in zones. That's what always has made him a good slot and a productive player in this league."
On White, who has missed 28 of 32 games due to injuries in his first two NFL seasons:
"The biggest challenge for Kev is just being able to get out there and play and be able to play and stack multiple good days together. It's just getting those reps. He's missed a lot. The growing experience, he might have got it mentally. But he needs to go out there and experience that and feel what it's like to go against a press corner. It's been a long time since he's had an opportunity to do that and run the whole route tree. We've got to figure out, 'Hey, this is what Kev does well.' And maybe it's everything. Maybe it's seven or eight routes. Maybe it's three or four. But we have to figure out what that is."