It's interesting to read about the Bears' storied history on walls and in display cases throughout Halas Hall. But it's even more fascinating to hear from someone who has lived it.
Earlier this week, Bears players had the unique opportunity to listen to Virginia McCaskey speak about the organization's rich history—from its humble beginnings under the direction of her father, George Halas, who founded the team as the Decatur Staleys in 1920.
Mrs. McCaskey spent about 30 minutes speaking to Bears players during a team meeting at Halas Hall. She spoke mainly about her father, who was a player, coach, founder and owner of the franchise for eight decades until his death in 1983.
"It was pretty cool," said guard Eric Kush. "It was actually a huge thing that you don't get too often. It was incredible to have Mrs. McCaskey come and speak to all of us. Everybody talks about tradition and rich history, but Mrs. McCaskey has actually been through it all. She's seen it. She's able to convey what the Bears have been about for a long time."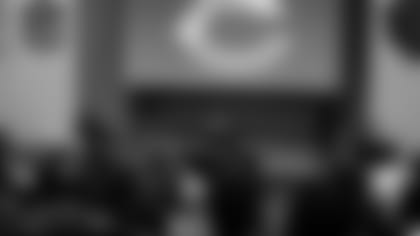 A football and baseball standout at the University of Illinois, Halas played briefly for the New York Yankees in 1919 after he was discharged from the Navy. When a hip injury ended his baseball career, he was offered a job at a corn products company in downstate Decatur.
The man who owned the business, A.E. Staley, also wanted Halas to play for the company's baseball team and start a football team as well. That football squad—dubbed the Decatur Staleys in 1920—eventually became the Chicago Bears in 1922.
Mrs. McCaskey spoke about the difficulties that her father faced trying to establish a new team in a new league. With pro football far less popular than college football in the 1920s, Halas would bring accounts of Bears games to local newspapers and plead with editors to print them.
"What has turned into an incredible organization and an incredible league that millions of people watch and enjoy, it wouldn't have been possible if it wasn't for guys like George Halas," Kush said. "To think it all started because a bunch of guys working for companies wanted to have an extracurricular sports team after work, it's just incredible.
"We all stand on the shoulders of the guys who did it before us, who played before us, who coached before us. We've got to try to represent that with respect and full effort."
Other Bears players also enjoyed hearing from Mrs. McCaskey.
"It was awesome," said center Cody Whitehair. "The information she gave us and the stories she gave us about her family and the history was cool. She also told us that she wants 100 percent effort from us all the time, which was cool to hear from her."
"It was definitely an honor," said special-teams standout Sherrick McManis. "It was so inspiring. You can tell she understands that there's a respect and history that comes with the game and with this organization, and she wants everyone to be aware of it."
McManis was surprised to learn that Halas not only started the Bears and helped found the NFL but also played Major League Baseball and created and owned a franchise in the American Basketball League known as the Chicago Bruins in 1925-26.
"Those are some things I had never heard about," McManis said. "Owning football and basketball teams and playing for the New York Yankees, that's a lot of ambition."