To close out Latino Heritage Month, the Bears invited the family of the late Peter Perez, who played offensive line for the club in 1945, to Halas Hall last Friday.
Perez's parents were born and raised in Zacatecas, Mexico and immigrated to Aurora, Ill. in the early 1900s. As one of the first Latino players in the NFL, Perez felt proud of his heritage and his ability to represent it in the NFL.
Three of Perez's five sons — Patrick, Paul and Michael — made the trip to Lake Forest with their families to see the Bears' Latino Heritage Month display which highlights their father. Fellow Bears alumni Roberto Garza and Rick Casares are also featured.
"I'm proud of not only what the Bears did for our father, but for Rick Casares, Roberto Garza and the Latino community throughout the Chicagoland area," Patrick said. "We cannot thank the Chicago Bears organization enough, cannot thank [Bears historical archives assistant] Claire Blakemore enough. This was a lifelong dream for my father and to be able to come and see the dream go full circle, it's priceless."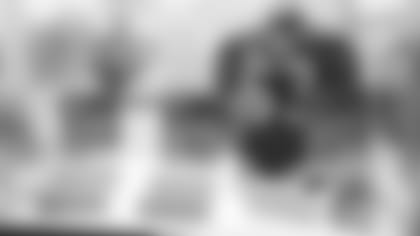 Bears chairman George H. McCaskey and Vice President Brian J. McCaskey also spent time with the Perez family Friday.
George added that the Bears "were thrilled to have Peter's family at Halas Hall for a visit because as his son, Patrick, said, his dad opened doors for a lot of people."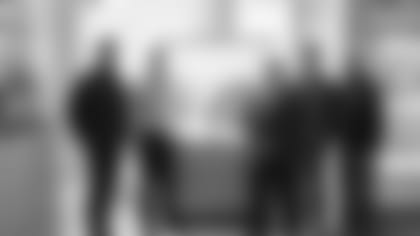 Perez also played college football for the University of Illinois and was coached by Ray Eliot, who later sent the Bears a letter of recommendation for Perez. While Perez played just one season for Chicago, Patrick said his father always spoke highly of his time in the NFL.
"When we were kids, we would go to the alumni games because he and my mom would go to the dinners," Patrick said. "He talked about it, what it was like. When we were kids, he was our first football coach when we played Catholic grade school football. We never had a better coach in our life because he took the things that he learned here and applied them to coaching us."
Following Perez's football career, he returned to Aurora, worked in law enforcement for 34 years and became a police officer in 1968. In 1990, Perez was recognized by the Hispanic Illinois State Law Enforcement Association as the inaugural winner of the Hector Jordan Memorial Lifetime Achievement Award.
Perez, who passed away in 1999, also has an award named in his honor by the Aurora Hispanic Heritage Advisory Board. The annual award honors a community member for their outstanding leadership and impact on the Hispanic community.
"The fact that our father passed away in 1999 and he is still being remembered here today by the Chicago Bears in a positive light is [special]," Patrick said "In the city of Aurora where he grew up, they named a street after him in 2005. The Hispanic community in Aurora gives out an award every year in my dad's name. He set the bar very high, and I will never be as proud as anyone in my life as I am my father."
Seeing their father's name and story on display at Halas Hall nearly 80 years after he played for the Bears was a dream come true for Patrick, Paul and Michael.
"Just immense pride," Paul said of his emotions being at Halas Hall. "Pride in our father, pride in this organization. It's been a unifier in our community in Aurora – it's Bear Country. It's known for my father, known for the Bears. We're just recipients of that and just super proud of the opportunity to witness this ourselves."