Former offensive lineman Roberto Garza traveled to the Chicago area last Friday to be a part of the Bears' High School Latino Heritage Games, where Round Lake's girls flag and boys tackle teams hosted North Chicago.
Garza, whose parents were born and raised in Mexico, grew up in Rio Hondo, Tex., and has proudly represented his Latino heritage for Chicago and the Bears since he joined the organization in 2005.
Giving back to the community that embraced him during his 10-year career with the Bears and still supports him today is an opportunity Garza "holds dearly." Garza took pride in showing young Latino students that the opportunities for them, specifically on the football field, are here.
"Back when I was growing up, I got to meet [former NFL defensive lineman] Tony Casillas and he impacted me and inspired me to see if he could do it, I could do it too," Garza said, "If I can do that for somebody – it's why I take advantage of the opportunity that I have to go out there and reach out to those kids. Coming out to Round Lake, meeting those kids and signing those autographs and having that two-minute conversation with them, hopefully can inspire them to do something.
"If they see somebody who has the last name 'Garza,' and say, 'hey, I'm just like him. I grew up like him. I can achieve anything.' Whether it be football, soccer, being a teacher, a lawyer, a doctor, you can aspire to be anything. You can achieve that if you put your mind to it."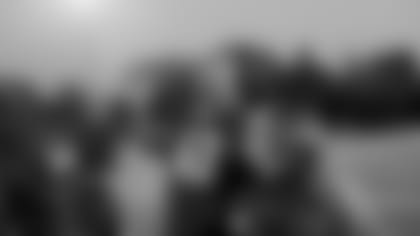 Garza served as the honorary captain for the girls and boys games, engaged with fans, signed autographs and took pictures. He also selected a Player of the Game from each team as well as a Fan of the Game, presenting them with Bears footballs.
Prior to the girls flag game, Garza surprised both Round Lake and North Chicago with custom Latino Heritage-themed jerseys.
"It's a pretty historic day for Round Lake and North Chicago, starting up the flag football program for the girls [this year], and [celebrating] Latino Heritage Month," Garza said. "These two communities have such a deep history of Latinos in the community, Latinos playing football and now the girls get to show their abilities on the field. I know they're excited. It was fun to present them with the special Latino jerseys, so it's fun to be part of something that's going to hopefully impact the community in a positive way."
Round Lake senior girls flag player Alani Gonzalez, who helped bring out the jerseys for her team, was excited about Garza and the Bears' presence. Gonzalez said the support "meant a lot because it shows they really care."
"It felt really nice having the opportunity to show off the jerseys to my teammates," Gonzalez said. "The hype with the team just made everything 10 times better. I loved it and I loved the jerseys. They came out really nice."
Garza gave a motivational speech to the boys team, telling them how much he misses building camaraderie with teammates, getting ready for games together and stepping onto the field.
Round Lake junior Elian Barrera appreciated Garza taking the time to go out and support him and his team.
"It means a lot," Barrera said. "He's Hispanic and he made it. He's one of those small percentages that made it into the NFL. He knows what he's doing, what he's gone through, put all that work in. For him to spend his day here, it means a lot."
Friday's celebration also featured the Latino Heritage themed t-shirts and banners which were created by two Round Lake design students Janett Martinez and Diego Navarrete. Bears lead graphic designer Mat Stewart and graphic designer Kelley Jacobsen visited Round Lake Sept. 13 to help Martinez and Navarrete draft and fine-tune the art.
Martinez said she "felt so proud that day" when working with Stewart and Jacobsen and added that it was "so exciting to see everything put together."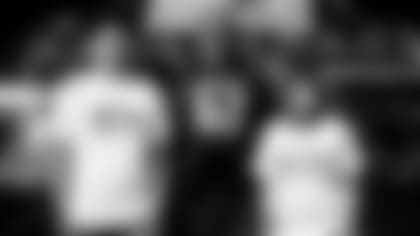 Bears manager of youth and high school football Gustavo Silva was proud of the organization's support and presence at the game as the Bears' efforts to celebrate Latino Heritage Month continue.
"The Chicago Bears interact, activate, and integrate into the Latino communities in Chicagoland all year," Silva said. "During Latino Heritage Month we like to focus on one Latino Community to highlight. In past years it's been Chicago, Addison, Waukegan. This year it is Round Lake. Focusing in one community at a time allows us to maximize our impact and form authentic relationships in that community. Ultimately, that's our goal: one community at a time."