Bears receiver Brandon Marshall suffered two broken ribs and an injured lung in Thursday night's loss to the Cowboys and remained hospitalized Friday afternoon due to the lung injury.
Marshall will not play next Monday night against the Saints and his availability for the final two games of the season versus the Lions and Vikings will be determined at a later date.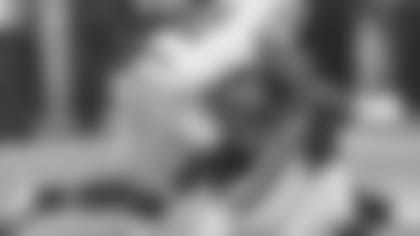 Bears receiver Brandon Marshall was injured on this hit by safety Barry Church Thursday night.
"I went over to the hospital last night to see him," said coach Marc Trestman. "He was in very good spirits. He's got some healing to do obviously and he'll be out for the week certainly and we'll see where he is as we move along. But he had a smile on his face. He was in good spirits."
Marshall left Soldier Field in an ambulance Thursday night after being kneed in the back by Cowboys safety Barry Church while making a 15-yard reception in the second quarter. The catch came on fourth-and-seven, sustaining a drive that led to a touchdown. Earlier on the same possession, Marshall had made a one-handed catch of a 42-yard pass from Jay Cutler.
"You could see it last night; [Marshall] lifted our football team," Trestman said. "He has a special quality. You guys know him. He's certainly one of the best communicators and charismatic guys we have on our football team. He brings life to everything that we do."
Marshall exited with three receptions for 61 yards, increasing his season totals to 61 catches for 721 yards. His eight receiving TDs are tied with Alshon Jeffery for the most on the team.
Next man up: It's not yet known whether Marquess Wilson or Josh Morgan will replace Marshall in the starting lineup, but both figure to see expanded playing time.
"We'll see as we work through the week," Trestman said. "All of our receivers are going to be working certainly. You know that Marquess will be playing and that Josh Morgan will be playing, and we'll see where we are with our other guys on the roster."
A miscommunication between Cutler and Morgan led to an incompletion Thursday night. But Trestman is confident that the quarterback and receiver will be on the same page moving forward.
"I think that will happen," Trestman said. "They've gotten a lot of work together. It hasn't been as much obviously as Brandon and Alshon [Jeffery]. But Jay has a lot of confidence in Josh. Josh has worked real hard the last month in terms of internalizing the offense and practice and doing some very good things so I think I do know that Jay feels very good about Josh."
Unwavering support: Trestman said Friday that the support he receives from management has remained the same despite the team's downward spiral to 5-8 this season.
"I don't think it's ever changed here, by all the key parties that you're thinking about," Trestman said. "It's been tremendously supportive during the good weeks and bad weeks, and it's been extremely consistent by everybody here."
Asked if he has received any ultimatums, Trestman said: "The only thing that people ask me here is what can they do to help, and that comes from all areas of this building—what can we do to help you along—and that support has been very heartfelt."
Focus on next game: Trestman declined to address a question Friday about how far this season has set the Bears back in their quest to win multiple championships.
"The focus has to be on New Orleans right now," he said. "It really does. To get into hypotheticals about how far it set us back is not the place we need to be right now. There's another time for that. The questions should be geared more towards what happened yesterday, which I accept here, and moving forward into New Orleans, because that's the only thing we can control."