The Bears on Tuesday announced the addition of four new coaches and two scouting interns who will join the 2021 training camp staff as part of the NFL's Bill Walsh Diversity Coaching Fellowship and Nunn Wooten Scouting Fellowship.
The program's objective is to use NFL club's training camps to give coaches and scouts opportunities to observe, participate, gain experience and ultimately gain a full-time NFL coach and scouting positions.
The four coaches joining Matt Nagy's staff include Brandon Gibson (Kentwood High School; Offensive Coordinator), Siriki Diabate (Middle Tennessee State; Linebackers), Jason Henshaw (University of Rochester; Defensive Line) and Dialleo Burks (Callaway High School; Wide Receivers/Special Teams). In addition, two player personnel interns, Rashad Rich (Saskatchewan Roughriders; Scout) and Ashton Washington (Texas Tech; Director of Recruiting Operations and Creative Content), will join the Bears' scouting department this summer. Washington is the first female to work in the club's scouting department.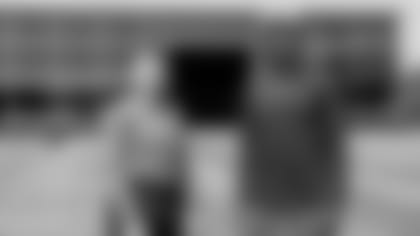 Gibson joins the Bears' staff following a seven-year playing career in the NFL. A Washington State product, Gibson finished his collegiate playing career as the Cougars' all-time leading receiver, logging 2,756 receiving yards, 182 receptions and 17 touchdowns. He was named Honorable Mention All-Pac 10 and Offensive Most Valuable Player at the end of his senior season. Originally drafted in the sixth round of the 2009 Draft by the Eagles, Gibson also spent time with the St. Louis Rams (2009-12), Dolphins (2013-14) and Patriots (2015) before officially retiring in 2017. In 76 career games, Gibson totaled 2,711 receiving yards on 233 receptions (11.6 avg.) with 13 touchdowns. His first role in coaching came in 2019, when he joined Central Washington University for two years as an offensive assistant/wide receivers coach. He currently coaches at Kentwood High School in Covington, Wash. as the Conquerors' offensive coordinator.
Diabate comes to Chicago with six years of collegiate coaching experience with stops at Colgate University (2015-16) and Middle Tennessee State University (2017-20), where he currently serves as an inside linebackers coach. Prior to coaching, Diabate attended Nassau Community College, where he was an All-American linebacker, team captain and was named the 2010 Northeast Football Conference Co-Defensive Player of the Year. Diabate went on to play linebacker for two years at Syracuse University (2011-12). As a senior in 2012, he was named co-captain for the Orange and started all 13 games on a defense that ranked sixth nationally in tackles-for-loss. Following his time as a student-athlete, Diabate immediately joined the coaching staff at Syracuse as a graduate assistant in 2013, primarily working with a defense that ranked 11th nationally on third-down conversions and 26th in total defense. Diabate earned his first full-time coaching role at Colgate, working with the Raiders' safeties for two seasons (2015-16) prior to his arrival at Middle Tennessee State.
Henshaw joins the Bears' training camp staff following his second season at the University of Rochester, where he tutors defensive linemen and serves as an on-campus recruiting coordinator for the Yellow Jackets. Entering his ninth overall season in coaching, Henshaw brings an additional six years of experience from his time mentoring defensive lineman at Widener University (2012-17), while also acting as the JV head coach. A native of West Chester, Pa., Henshaw was a four-year letter winner at Kutztown University, where he earned All-America and All-PSAC Conference honors as a defensive lineman. He was named team captain for the Golden Bears as a senior in 2011 and was selected as Most Improved Player during his freshman campaign. While at Kutztown, the Golden Bears won the 2011 PSAC championship and qualified for the NCAA Division II Playoffs in 2010 and 2011. He also logged 143 career tackles, including 13 for loss.
Burks is currently the wide receivers and special teams coach at Callaway High School. This year's upcoming NFL training camp will be his second opportunity within the Bill Walsh fellowship program after interning for the Titans in 2018. Prior to coaching, Burks enjoyed a 12-year playing career with stops in the NFL, NFL Europe, XFL and AFL. A graduate of Eastern Kentucky in 1997, Burks first entered the NFL as an undrafted free agent with the Eagles (1997-1999) before making additional stops with the Panthers (1999-01) and Raiders (2001). He extended his career with NFL Europe's Rhein Fire (1998) and the XFL's Orlando Rage (2001) before joining the AFL for seven seasons with the Dallas Desperados (2002-03, 2006-07), Georgia Force (2004-05) and Grand Rapids Rampage (2005). Burks' first coaching opportunity began at Hopewall High School in 2002, where he coached for two seasons while he was playing for the Desperados. He spent two more at Berkmark High School (2005-06) before landing his first full-time collegiate position with LaGrange College (2006-09). While at LaGrange, he also became the special teams and fullback/linebacker coach for the Georgia Force in 2008. He became an assistant coach at Troup High School in 2010 before returning to LaGrange High School as an assistant coach for two years (2011-12). In 2013, he was hired by Lafayette High School as an athletic director and head coach. In 2014, he was named head coach at his alma mater, LaGrange High School, where he spent three seasons prior to his arrival at Callaway High School in 2018.
From the scouting side, Rich enters his fifth season as an area scout for the CFL's Saskatchewan Roughriders. Prior to his arrival in Regina, the Washington D.C. native excelled as a multi-sport athlete (football, basketball, track) at Bishop McNamara High School, earning all-conference honors in track and field. Rich would eventually attend Bacone College, where he played tight end/receiver and earned first-team all-conference honors and was named Outstanding Wide Receiver. Following four seasons at Bacone, Rich went on to play for the Indoor Football League and Canadian Football League while also working as a high school coach at Bishop McNamara and Bishop Dennis J. O'Connell High Schools.
Washington joins the Bears as the first-ever female in the club's scouting ranks. A native of Houston, Texas, she began her football career as the director of operations and recruiting for The Old Coach, a media outlet that covers high school football in Texas. She recently was named the director of recruiting operations and creative content at Texas Tech in March 2021. Prior to joining the Red Raiders, Washington assisted the XFL's Houston Roughnecks as a gameday operations specialist.
For more information on the fellowships, visit NFL.com.
Take a look each player on the Bears roster as Dr Pepper Zero Sugar Training Camp gets underway at Halas Hall in preparation for the 2021 season. (Players listed alphabetically)