While the Bears and 49ers both aren't sure whether their starting quarterback will be able to play Monday night after suffering a concussion last Sunday, there is one certainty about the game.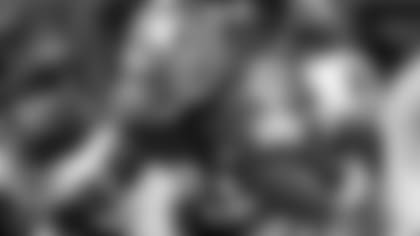 Charles Tillman forces a Frank Gore fumble in the 49ers' 10-6 win over the Bears in 2009.
Regardless of who is throwing the ball, a huge key to the NFC clash in San Francisco will be whether a dominant Bears defense can contain the 49ers' top-ranked running game.
"They have a serious commitment to running the ball and they have the talent to do that," said defensive end Israel Idonije. "They're a very physical offense up front and the scheme that they run has been very successful, and they have the guys to do it.
"For us, our commitment as a defense is to match that physical play and to really raise our level. We consider ourselves a physical defense as well, so it's going to be a great match-up."
While the Bears defense ranks No. 1 in the Aikman Ratings, which combines seven key statistical categories, the 49ers are rushing for an NFL-leading 170.2 yards per game.
"When you are No. 1 in the league rushing the football, that gets your attention," said coach Lovie Smith.
After allowing Arian Foster to rush for 85 yards on 17 carries in the first half of last Sunday's 13-6 loss to the Texans, the Bears held him to 17 yards on 12 attempts in the second half.
On Monday night they'll face the 49ers' Frank Gore, a three-time Pro Bowler who ranks eighth in the NFL in rushing with 753 yards and five touchdowns on 140 carries.
"He's one of the better running backs in the league," said middle linebacker Brian Urlacher. "He's very underrated. He doesn't get a lot of pub, but he does a lot of the dirty work for them.
"We've got to get a lot of guys to the football. There are going to be missed tackles; it's just the way the game goes. If we get 11 guys to the football and try to wrap him up, we should be OK. He's going to make some plays though. He's a good running back."
The last time he faced the Bears in 2009, Gore rushed for 104 yards on 25 carries and scored the game's only touchdown on a 14-yard run, leading the 49ers to a 10-6 win in San Francisco.
Gore has three 100-yard games this year, highlighted by a 131-yard outing Oct. 18 in a 13-6 home win over the Seahawks. He also caught a season-high five passes for 51 yards in that contest.
"Gore comes downhill and they've got some big guys up front," said defensive tackle Henry Melton. "They've been coming off and opening up holes for him."
While the Bears lead the NFL with 30 takeaways, the 49ers have only nine giveaways this season.
"They don't make a lot of mistakes with the football," Urlacher said. "They have allowed some sacks in the passing game, but they run the ball so well that they don't get behind the sticks too much. They just keep trying to pound it."
The 49ers have yielded 29 sacks this season, tied for second most in the NFL. The Bears defense has recorded 26 sacks, tied for six most in the NFL.
"They really just run an offense where they don't turn over the ball," Melton said. "Our goal is to get turnovers, so we've got to break that habit and really just kind of get after them."
It's unclear whether Smith or backup Colin Kaepernick will start at quarterback for San Francisco. Smith was relieved by Kaepernick in the second quarter of last Sunday's 24-24 tie with the Rams after suffering a concussion and experiencing blurred vision.
Asked whether he considers Smith "a game manager," Urlacher wasn't about to take the bait.
"You can call him what you want to," Urlacher said. "He wins games. His numbers are good. When you have a great defense, it's hard to tell your quarterback to go out there and make a bunch of big plays because you don't have to when your defense is good like that.
"He does what he has to to win. They run the football a lot, but he makes throws when he has to as well. He's a good quarterback. He's come a long way, I know that much, from his first few years."
Smith ranks third in the NFL with a 104.1 passer rating, trailing only the Broncos' Peyton Manning (108.0) and the Packers' Aaron Rodgers (107.4). The 49ers quarterback has completed a league-high 70.0 percent of his passes for 1,731 yards with 13 touchdowns and five interceptions.
Smith and the Bears' Jay Cutler, who sustained a concussion in last Sunday night's loss to the Texans, both must be cleared by an independent neurological consultant to play Monday night.