Scottie Pippen wasn't quite as good as Michael Jordan, but they teamed up to lead the Chicago Bulls to six NBA championships and both ultimately were enshrined in the Hall of Fame.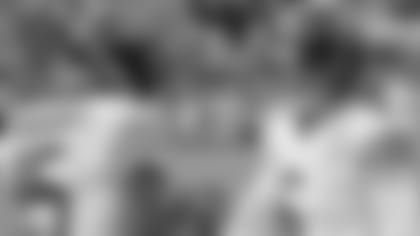 Jay Cutler and Brandon Marshall have connected for 797 yards and 7 touchdowns this season.
A similar situation may be taking place with the Bears. The offense likely won't reach the same stratosphere as a dominant defense that's making history and setting records. But that doesn't mean Jay Cutler and crew can't continue to improve and play an integral role in a special season.
"We're not going to catch the defense this year; it's not going to happen," Cutler said. "We're 8-9 years behind those guys. They've been in the same system a long time, so we just have to focus on ourselves and every guy just has to get a little bit better each week every day at practice, and if we get a little bit better, by the end of the season we'll be better."
After sputtering early last Sunday, the Bears offense came to life, scoring four touchdowns in a 51-20 rout of the Titans, its best output since producing five TDs in a Week 1 win over the Colts.
"I don't care how we start," said receiver Brandon Marshall. "It's all about how we finish. When you look at Sunday, we put up 37 points. When you look at it statistically with some of the things we're doing, total offense may not be up there. But what we're doing and beginning to do is special. I look at the positives. We put up 37 points. That's special."
Prior to this season, the Bears hadn't had a 100-yard rusher and receiver in the same game since 2006. But they accomplished the feat last Sunday for the second time this year as Marshall caught nine passes for 122 yards and 3 TDs and Matt Forte rushed for 103 yards and 1 TD on 12 carries.
"Especially with what we have on the other side of the ball, the defense, I think it's important for us to establish the run," Marshall said. "Matt, he's a beast. That's our guy. Our offense is tailored around him and we're going to try to get him the ball.
"When he's rolling, everything else opens up for myself and Earl [Bennett]. Whenever we have the opportunities at the wide receiver position, I think we're doing a good job of capitalizing."
Like Pippen and Jordan, the Bears offense and defense are working hand-in-hand.
"The way our defense is playing, I'm just trying to minimize turnovers, try to convert on third down, protect the ball and make smart decisions in the red zone," Cutler said.
"We're running the ball well. The offensive line's getting better and better. As they move and get better it's going to open up more doors as far as what we're able to do in the passing game and kind of open my game a little bit."
The defense has fueled the Bears' six-game winning streak by returning a franchise-record seven interceptions for touchdowns while allowing opponents to score only six TDs during that span.
The Bears lead the NFL in takeaways (28), turnover margin (plus-16) and point differential (plus-116), rank third in points scored per game (29.5) and are second in points allowed per game (15.0).
Like everyone else, Cutler was amazed to see the defense generate five takeaways and score its seventh TD of the season on Brian Urlacher's 46-yard interception return last Sunday in Tennessee.
"You don't see that often if ever," Cutler said. "To see so many turnovers, so many short fields, a touchdown again, it's remarkable week-in and week-out that they're able to play at that high level."
Marshall knows the offense must carry its share of the load for the Bears to win a championship, but he also appreciates how the defense has been performing.
"We just have to be efficient and try to reach our goals," Marshall said. "Whatever our goals are for the season and that particular week, that's all we have to do because at the end of the day it's not the Bears defense making it to the playoffs and the offense not.
"Whether it's the special teams getting it done that week or the offense or the defense, we're a team. But you have to give respect where it's due and our defense is playing lights out right now. They're making it a lot easier for most people in this building."