Jay Cutler and the Bears offense will face a difficult test Monday night in Dallas when they battle a Cowboys defense that's ranked No. 1 in the NFL in total yards allowed.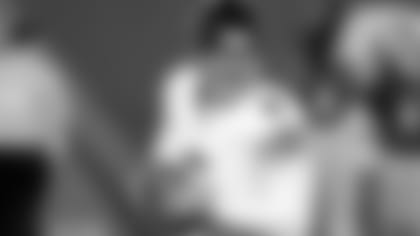 Jay Cutler has passed for 642 yards and 3 touchdowns this season.
Dallas defensive coordinator Rob Ryan employs a 3-4 scheme that's led by outside linebacker DeMarcus Ware, whose 103½ sacks since he entered the league in 2005 are the most by any player. The Cowboys added a pair of lockdown cornerbacks during the offseason, signing veteran Brandon Carr and trading up to select Morris Claiborne with the sixth pick in the draft.
"Really good defense," Cutler said Thursday. "Front four, front seven, pass rushers, they definitely upgraded their DBs through the draft and free agency. Solid team. Coach Ryan is going to do a good job of game-planning and mixing up the coverages. It's going to be a challenge."
Under first-year coordinator Mike Tice, the Bears offense ranks 27th in the NFL in total yards. The unit has mustered only one touchdown in each of its last two games against the Packers and Rams after scoring five TDs in a 41-21 season-opening rout of the Colts.
Cutler ranks 31st in the league with a 58.6 passer rating, having completed 49 of 93 passes for 642 yards with three touchdowns and six interceptions.
"It's just the first year in the offense. It's going to take time," Cutler said. "Very few teams go out their first year offensively with a new offensive coordinator, new system, and put up 30, 40 points a game. It's a whole season. You've got to build on each game and every game and get better."
Cutler would love to replicate his only previous start against the Cowboys. In 2010, he led the Bears to a 27-20 win in Dallas by completing 21 of 29 passes for 277 yards and three touchdowns with no interceptions and a 136.7 passer rating.
"We were successful there last time," Cutler said. "Any time you're on the road it's hard. It's going to be loud. The home team always comes out and they're going to give you their best punch early. You just kind of have to weather it and get to the fourth quarter and play good football."
To avoid predictable passing situations, the Bears need to be much more effective on first down. They rank last in the NFL with an average gain of just 3.32 yards on first-down plays, while the Cowboys defense leads the league in that category, yielding only 3.78 yards.
"Putting ourselves in second-and-15, second-and-12, it's hard to call a game. It really is," Cutler said. "You've got to get positive yards on first and second down and give yourself a chance.
"When you're fighting a second-and-eight-plus, third-and-eight-plus, it doesn't really matter what you call. It's hard. You're fighting uphill. So getting positive yards on first down, whether it's a run or pass, and the same on second down and giving yourself a chance is vital."
While sharing some similarities, Cutler said that the Cowboys defense is "a little bit different" than the 3-4 schemes the Colts and Packers utilize.
"Any 3-4 is going to have great edge rushers," Cutler said. "There's going to be a lot of 'Sam' and 'Will' blitzing, some man. They're playing a little bit more zone than I think they have in the past with coach Ryan. They mix it up well. First and foremost you've got to protect your edges, and with [Ware and Anthony Spencer] coming off the ends it makes it hard."
The second fastest player in NFL history behind Reggie White to reach 100 career sacks, Ware leads the Cowboys with four sacks this year. He has recorded at least 14 sacks in each of the previous five seasons, including 20 in 2008, 15½ in 2010 and 19½ in 2011.
"We're going to do our best to get our game plan prepared and make sure we have the edges shored up and make sure we're taking care of '94' because he can be a problem," Cutler said. "If you leave him alone too many times one-on-one he's going to make a play. You've got to keep him guessing, throw a lot of stuff at him and hopefully at the end of the day keep him off you.
"He's really long. He's got a great first step. He's got an array of different moves he can use. He's a professional. He's been doing this a long time."
After cutting their sacks allowed down from seven in Week 2 against the Packers to two in Week 3 versus the Rams, the Bears will again look to protect Cutler from the Cowboys pass rush.
"They are going to try to create a lot of situations where we're singled up, and it's up to us to win those battles and we have to be ready," said center Roberto Garza. "They have a lot of guys that can definitely rush the passer, so we have to be ready to go out there and win those battles."