New Bears President and CEO Kevin Warren was presented with the prestigious Uncommon Award April 14 in Minneapolis.
It's an honor given by Pro Football Hall of Fame coach Tony Dungy, who personally selects one recipient every year. It recognizes those who aren't "afraid to take the tough road, to follow a higher calling or set a higher standard." The winner receives a sculpture that weighs more than 80 pounds and features the likenesses of Dungy's father, Wilbur Dungy, Martin Luther King Jr., and Dungy's coach at the University of Minnesota, Cal Stoll.
Warren's tenure with the Bears officially began Monday, April 17, though he had been transitioning into his role since being hired in January, meeting regularly with chairman George H. McCaskey, general manager Ryan Poles and former team President and CEO Ted Phillips, who retired after 40 seasons with the organization.
Warren joined the Bears after serving as commissioner of the Big Ten Conference the last three years. Prior to that, he was a highly respected NFL executive for 22 seasons with the St. Louis Rams (1997-2000), Detroit Lions (2001-03) and Minnesota Vikings (2005-19).
Bears coach Matt Eberflus spoke at the Uncommon Award dinner, congratulating Warren on behalf of the McCaskey family and the entire organization.
"This award is so deserving and a credit to the story you and your beautiful wife, Greta, have lived together," Eberflus said, "building a career of sustained success on a family foundation of hard work, faith and love. You have done it the right way.
"Looking back at your career so far, you have accomplished so much. And I know so much more is right in front of you. I am proud to partner with you on this next journey together. Everyone at the Chicago Bears cannot wait to officially get started with you on Monday, as we will set a new standard for the NFL both on and off the field."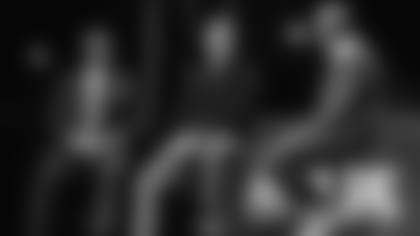 On April 15, Warren was a featured guest at the "Arise with the Guys" event at the Grace Church in Eden Prairie, Minn.
According to the Arise with the Guys website, "the annual men's event features professional athletes and sports figures sharing inspirational stories of life as part of an interactive program, preparing men of all ages to create meaningful change, live a life of intentionality, and positively influence others."
Previous winners of the Uncommon Award were former Carson-Newman coach Ken Sparks (2013), CBS studio host James Brown (2014), quarterback Marcus Mariota (2015), former linebacker Thomas Davis (2016), former quarterback Peyton Manning (2017), quarterback Case Keenum (2018), former tight end Ben Utecht (2019), Clemson coach Dabo Swinney (2021) and former quarterback Ben Roethlisberger (2022).